This 5 Minute Strawberry Cucumber Mint Infused Water will tame your thirst with its fruity and minty cooling flavors! This is the perfect summer thirst-quenching drink!  Best of all, it's kid approved!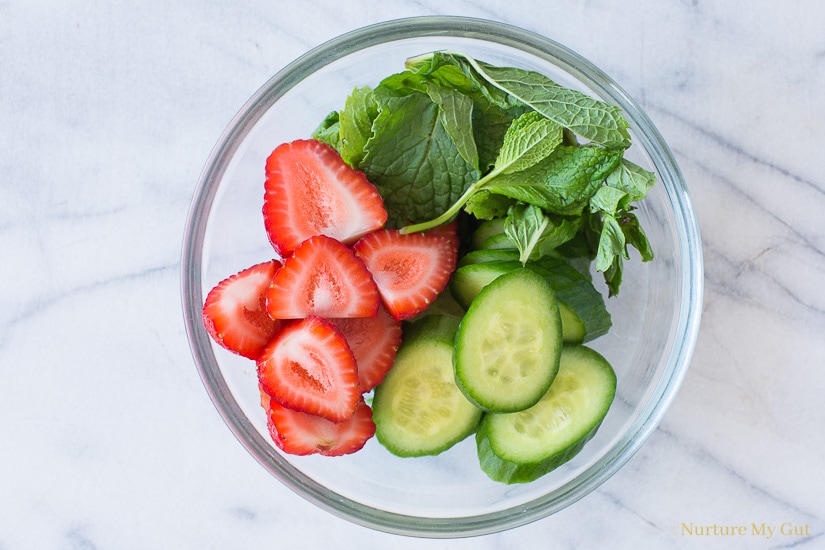 How To Make Infused Water Video Tutorial (See Below)
Summer is a few weeks away and the temperature has already been pushing past 90 this week! Hence, drinking water is a must!
How much water should one drink?
The minimum is half of one's body weight in ounces of water.
Take for example, an 80 pound child.  Take the weight, divide the weight by 2 and you get 40.  That means, the minimum amount of required hydration for that child would be 40 ounces of water.  Makes sense? As a rule, when it is hot, one can drink more than the minimum, and usually does to compensate for the loss of electrolytes from sweating.
Here is the formula again…
Water Formula:
Your body weight in pounds (divided by 2) = how many fluid ounces of water needed daily
Pretty simple!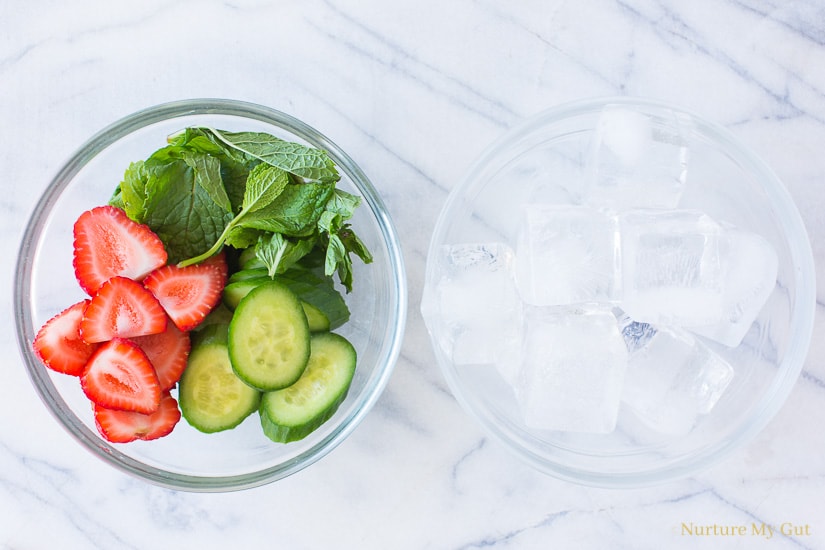 Now that you have the water formula.
What is the secret formula to get picky kids to drink water?
Look no further!  This 5 Minute Strawberry Cucumber Mint Infused Water is like magic fruity water for kids without the sugar!  They will keep asking for more and more!
This water tastes fruity, minty and so refreshing!
I have tested this Strawberry Cucumber Mint Infused Water recipe with over half a dozen different kids and all of them kept asking for more!
Ordinarily, people serve lemonade on hot summer days, which is delicious, but that can take up to 30 minutes to make.  Not all of us busy Moms have the time to make a healthy lunch and lemonade.  On the other hand, this recipe takes only 5 MINUTES!
It is healthy, easy to make and looks stunning!
My friend Marcella inspired this recipe.  She makes infused water daily and several variations such as pineapple/mint, mango/mint, watermelon/mint and orange slices for different flavors.  FYI, strawberry and watermelon last 4-6 hours before getting soggy, while pineapple, mango and orange last twice as long in the water.  Thank you for the tips Marcella!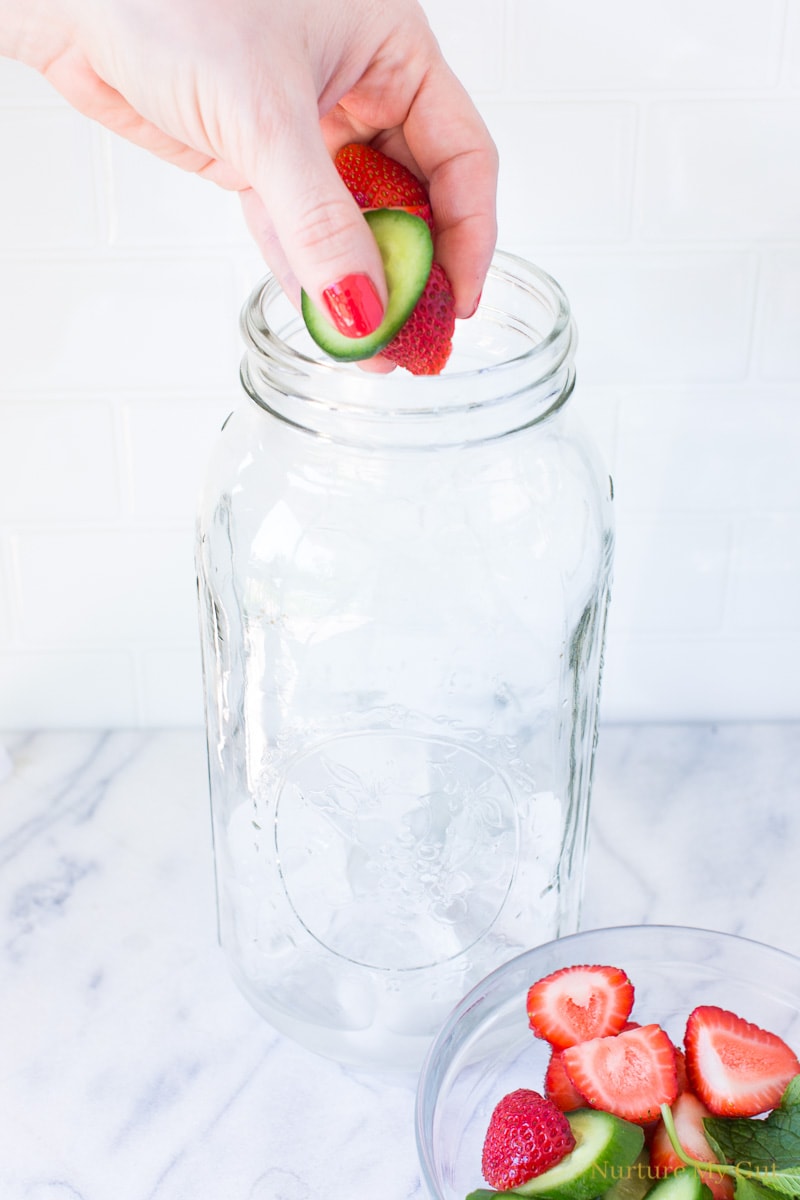 In addition, get your kiddos to help make this recipe.  Teaching kids to cook and help in the kitchen is an essential life skill. See below how kids can help with this recipe.
Kids Can Help Make Strawberry Mint Infused Water by:
removing leaves from strawberries
slicing strawberries in half with a butter knife
removing stems from leaves
adding ice to water jug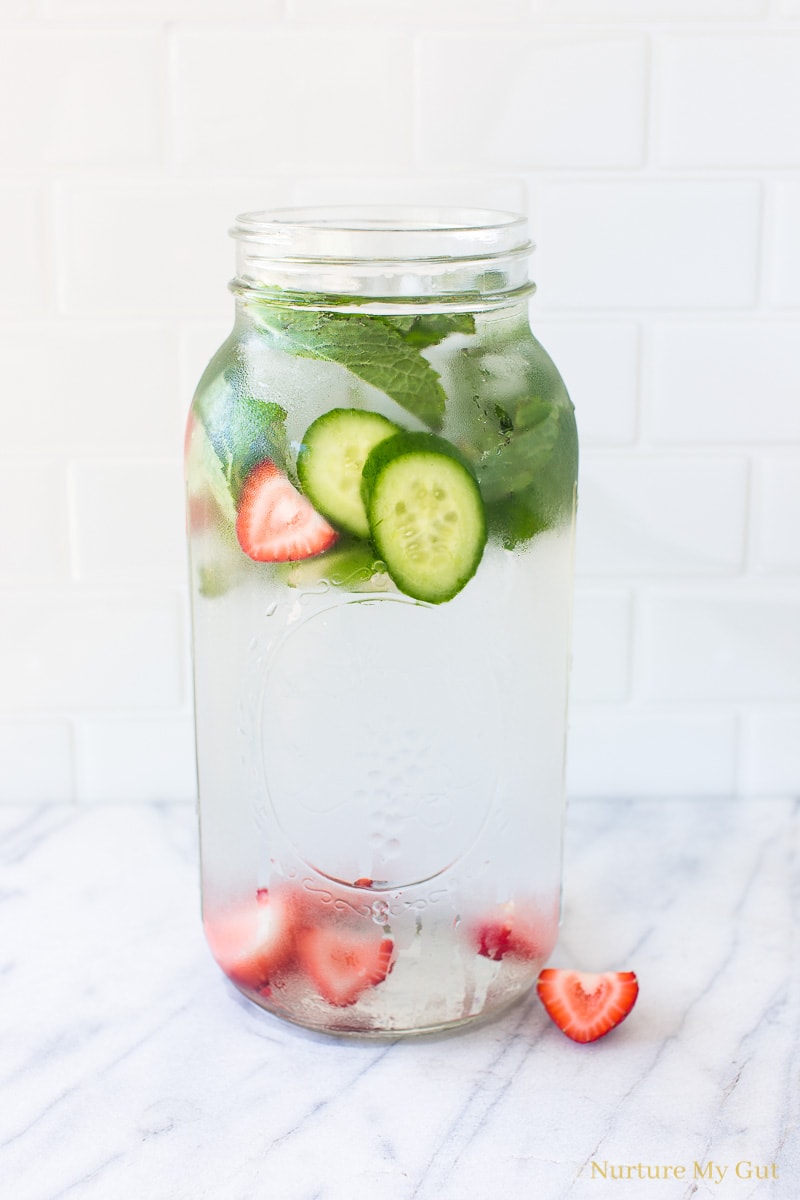 This 5 Minute Strawberry Cucumber Mint Infused Water is:
refreshing
delightful
fruity
minty
healthy and…
kid approved!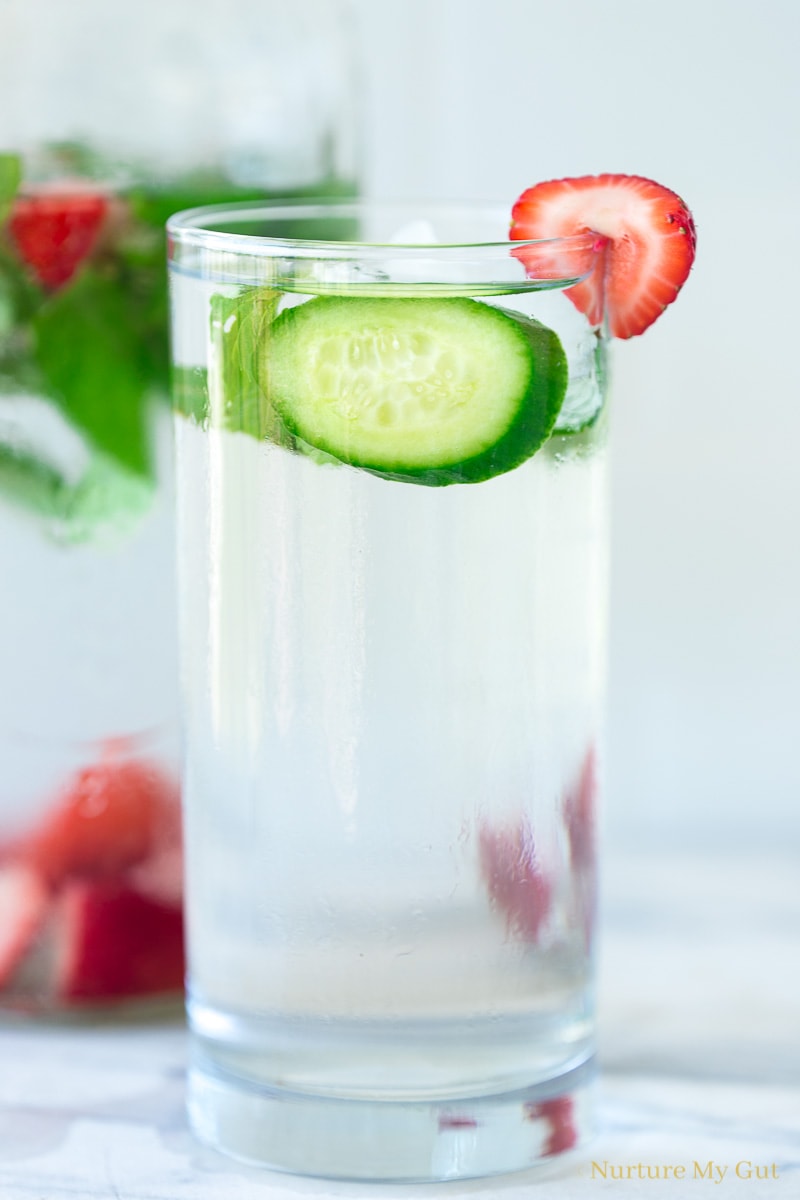 If you try this recipe, let me know what you think! Leave a comment, pin it, and don't forget to tag a picture @nurturemygut on Instagram. I love to see your kitchen skills in action!
For more delicious recipes, be sure to subscribe below.  You will get my Free Delicious Paleo Breakfast Ebook as my gift to you.
Print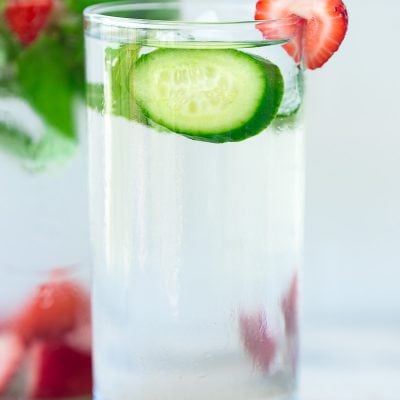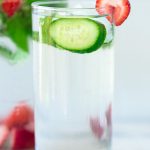 5 Minute Strawberry Cucumber Mint Infused Water
---
Description
This refreshing Strawberry Cucumber Mint Infused Water is ready in 5 minutes!  It's sweet and cooling flavors are the perfect thirst-quenching drink for a hot summer day. Get recipe now!
---
5

–

6

strawberries, hulled and cut in half

1/4 cup

fresh mint leaves, stems removed

1

small Persian cucumber sliced diagonally
ice (12 or more ice cubes)
water
---
Instructions
Rinse your strawberries, mint and cucumbers.
Hull strawberries and cut in half. Add to jar.
Remove stems from mint and add to jar.
Slice cucumber diagonally and add to jar.
Add as much ice cubes as desired. If the jar will be sitting for several hours, add 24 ice cubes, if you will be serving shortly, at 12-15 ice cubes.
Top off with filtered water.
Notes
Add more water to your mason jar after you pour the water into the serving glasses.  The strawberries will begin to soften after 4 hours so feel free to replace them if needed or pour them into the glasses along with the water.
 Water tastes best if used within 6-8 hours.
Latest posts by Ester Perez
(see all)