Refreshing Energy Boosting Juice, the perfect pick me up while on your period and feeling drained.  This juice contains essential vitamins and minerals known to support the formation of healthy red blood cells and progesterone levels.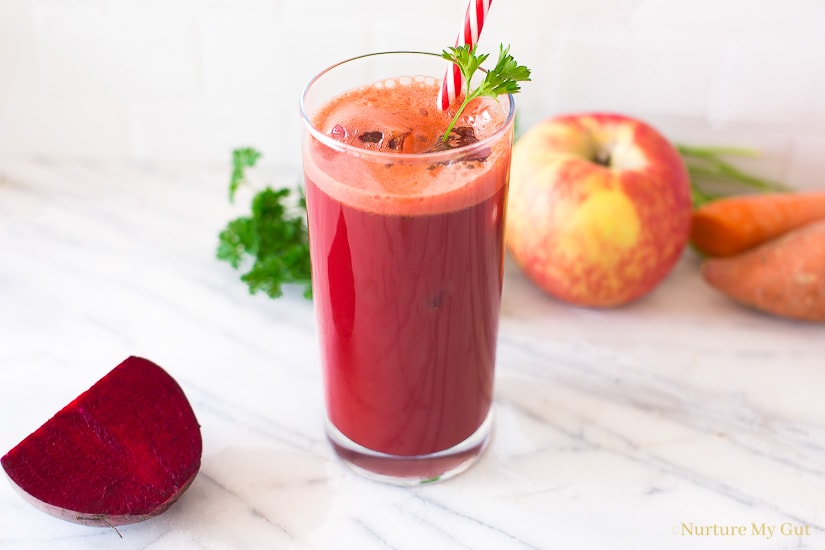 How to Increase Energy During Menstruation?
Many women tend to feel tired and drained the first few days of their period?  This has definitely been the case for me.  I would really prefer to stay in bed and rest to restore my energy levels.  Unfortunately, this is a rare luxury.  Realistically, how many Mom's actually just stay in bed and lounge?  We are constantly on the go from morning till night.  There are the never ending dishes, the daily pickup, making meals and countless errands.  I literally go to the market every other day!  Seriously, I am constantly running out of basic staples daily.  
With all this madness, I have discovered the perfect pick me up to boost my energy levels and build up my blood cells.  My body actually craves this juice on the first or second day of my period and it is just what my body needs!  I have found it to be so satisfying that usually 1 or 2 glasses the week of my period is all I need to give me the boost of energy my body is craving.
Hence, if there was one thing I could choose to do for myself during a hectic day, it would be to make this Refreshing Energy Boosting Juice!
After drinking a glass of this juice, I feel SO good and full of energy and vitality.  This is my "GO-TO" remedy for energy!  
This is Mom's Miracle Elixir!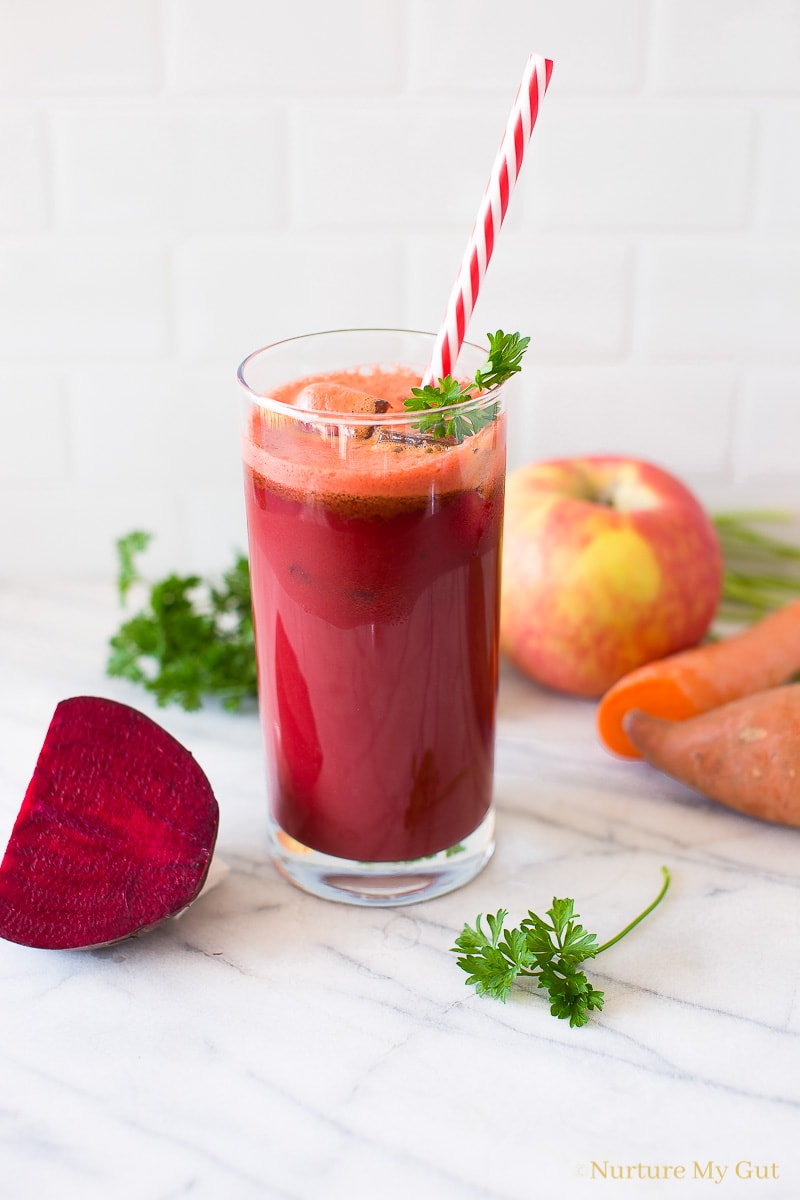 What makes this Refreshing Energy Boosting Juice so special?
Each ingredient is specifically picked out to help a female during menstruation.
Red raw beets are especially high in folate, containing 148 mcg of folate per cup. Folate is essential in the production of healthy red blood cells and preventing anemia.  In addition, red beets are full of potassium, manganese and vitamin C. Beets also help the body metabolize estrogen and boosts the production of progesterone. Progesterone is the "feel good" hormone, so yes, this is a good thing!
Sweet Potatoes are an excellent source of Vitamin A which also supports healthy red blood count production.  One whole sweet potato contains 18,909 IU's of vitamin A.  In addition, sweet potatoes contain high amounts of vitamin C, B6, manganese and potassium.  Vitamin A and C provide anti-inflammatory benefits and are anti-oxidants which may reduce the risk of heart disease.  Vitamin B6 helps to combat stress and helps the liver break down estrogen, which can reduce estrogen dominance.  Vitamin C helps to boost progesterone levels. Please be sure to pick out the right vegetable here, sweet potatoes (see photo below) are fine eaten raw, "YAMS ARE NOT SAFE EATEN RAW."
Carrots are an excellent source of Vitamin A.  1 medium carrot contains 1,379 IU's.  Additionally, carrots include vitamin C, potassium, Vitamin B1, B2, B3 B5, B6, phosphorous and vitamin K.    
Apples are rich in beta-carotene, potassium, folic acid, vitamin C, calcium, magnesium, phosphorus and pectin.  Freshly pressed apple juice is a delicious sweet base to any juice, plus, it is good for boosting the immune system, cleansing the body and the vitamin C helps boosts progesterone levels.     
Parsley is an excellent source of calcium, iron, Vitamin C, Vitamin K and Vitamin A.  Iron helps increase the number of red blood cells the body produces. 
As a result, the combination of all these ingredients make the ideal juice recipe for a woman during menstruation.
(This post contains affiliate links for your convenience. Click here to view my full Disclosure Policy.)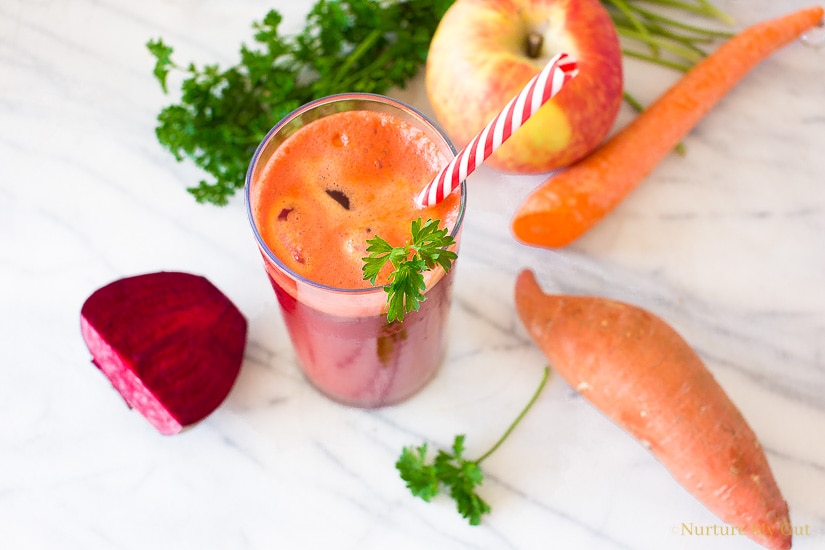 What is the Best Juicer for making homemade vegetable juice?
I have personally tried several juicers, from the slow masticating such as the Green Star Juicer, Omega Juicer to the high speed juicers.  My favorite by far is the newly made Breville Juice Fountain Cold.  Although the slow masticating juicers have the benefit of extracting a bit more juice and having very dry pulp, they do take twice as long to make juice.  As a busy Mom, I actually sold my Green Star for a Breville.  I went from owning a Breville, to owning a Green Star and back to owning a Breville.  I have owned a Breville for over 13 years!   
My top 3 reasons for choosing a Breville Juicer Fountain Cold are:
it's super fast (you can fit several carrots at once)
it's easy to clean (Prep time, juicing to clean up time is done in 10-15 minutes!)
it has an innovative cold extraction system that preserves vitamins and minerals (huge plus!)
If you are in the market for a great juicer, have limited time and looking for a good price, then this is a great juicer.  
So if you are tired of feeling drained, make this Refreshing Energy Boosting Juice that will recharge your energy levels by supporting healthy red blood cell and hormone production.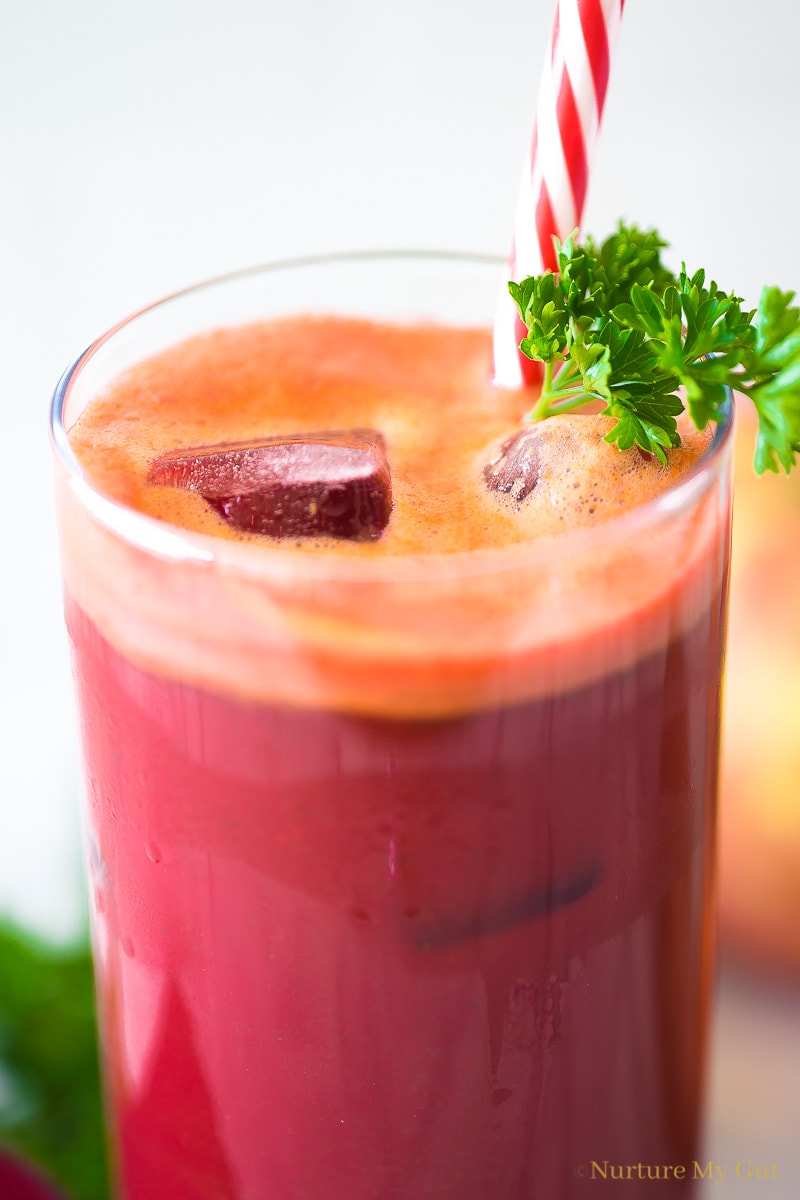 Looking for more delicious healthy homemade juice recipes?
 

Fan favorites are:

If you try this recipe, let me know what you think! Leave a comment, pin it, and don't forget to tag a picture @nurturemygut on Instagram. I love to see your kitchen skills in action!

For more delicious healthy gluten free/Paleo-ish meals, please subscribe below.  You will get my free Paleo Breakfast E-Book as my gift to you and new recipes straight to your inbox! 

Print
Refreshing Energy Boosting Juice
---
Author:

Ester Perez

Total Time:

5 minutes

Yield:

3

servings

1

x
1

red beetroot, rinsed and scrubbed (tops removed)

12

large carrots

1

sweet potato (do not use yams, they should not be ea

ten

raw)

1

Fuji apple

1

bunch parsley
---
Instructions
Run all ingredients through a juicer, stir and pour over ice.
Latest posts by Ester Perez
(see all)