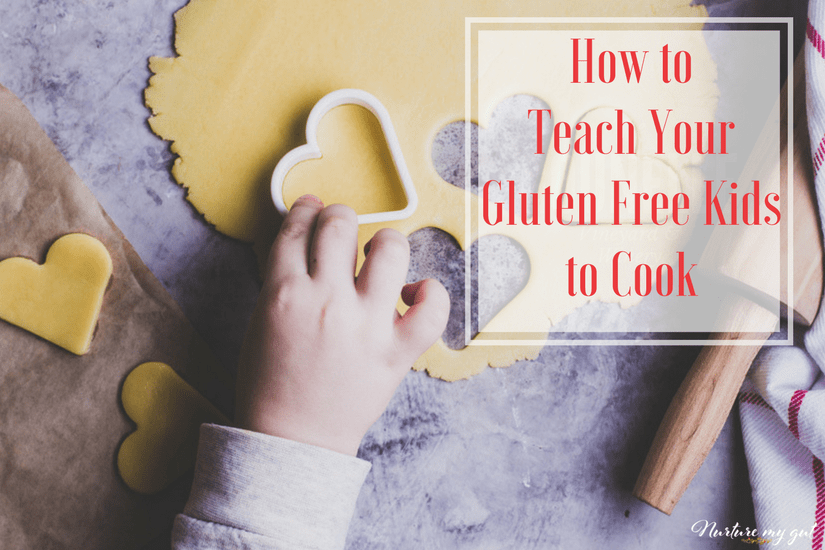 How to Teach Your Gluten Free Kids to Cook
Teaching your gluten free kids to cook is one of the most valuable things you can teach your child.  As Moms, we want our children to leave the nest as self-sufficient adults.  When we know our child has certain dietary needs, we want them to be successful at preparing their own meals.  In this article, I will show you several successful tips to teach your kids to cook.  My children love cooking now and can even make several meals on their own and yours can too!
(This post contains affiliate links for your convenience. Click here to view my full Disclosure Policy.)
How Early Can You Teach Your Gluten Free Kids How to Cook?
I recommend exposing them to the kitchen as early as possible, yes, even when they are babies.  The kitchen will become a familiar safe place.
I found out my son was allergic to gluten when he was 5 1/2 months old.  I nursed him and he was so sensitive to gluten that consuming breast milk from my diet full of gluten made him itchy with eczema all over.  As soon as I removed gluten from MY DIET, he cleared up.  My daughter was diagnosed with a gluten allergy when she was 6.  I made a decision that I would teach my gluten free kids how to cook and they would love it!  I decided they would go off to college knowing how to survive by cooking the foods that make them healthy.
When my kids were babies, I carried them in the Ergo Baby Carrier (that carrier was a life saver!) Both kiddos watched me cook and let me tell you, kids learn a lot by watching!
As soon as my daughter could reach her arms out of the carrier, she would try and whisk batters!  Don't underestimate your child's intelligence.  They may not be able to talk at an early age, but they are learning.
Therefore, you can teach your gluten free child to cook, as soon as possible.  Even if all they do is observe as babies or toddlers.
Create a Gluten Free Kid Friendly Space
Set them up with a space of their own.  Maybe a shelf or a few drawers with their own utensils, unbreakable cups, mixing bowls, etc.  This will give them a sense of pride and ownership of the kitchen.
I set up 2 kitchen drawers that were located at the bottom of my kitchen so that my kids can have easy access.  I put BPA free kids cups, plates, utensils, pitchers, mini mashers and kids whisks.
You can place baskets to separate items for the utensils so it keeps some order in the drawers.  You can even create labels with pictures of spoons for the spoon basket, put a picture of a plate, to show where the plates go, etc.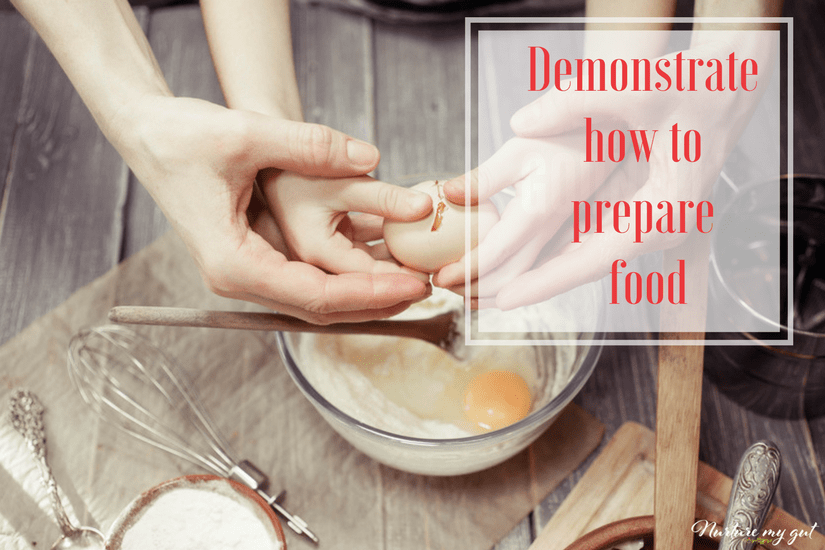 Relax and Let Your Kids Get Dirty and Have Fun
At first, this may be a challenging thing, yeah, it is more work for Mom to clean up a dirty child and messy kitchen, but it will be well worth it in the long run!  I promise!
Let the kitchen be a fun place to learn and let them get their hands dirty and involve them in each task that is safe and age appropriate.
I would give my kids simple tasks as toddlers like add the greens to the blender for smoothies and pour water into the blender with a mini plastic pitcher.  I would find ways to get them involved in each task.
Also, my son pushed the buttons on the blender to blend and then added the bananas for the green smoothie.  Getting kids involved in the process of cooking actually gets them more inclined to eating the food.  I also asked him if it tastes good and if it does not, what else would he like to add.  Kids have great ideas!!!
I also wanted to make sure that my kids were safe and I ended up buying a special stool called  The Learning Tower.  This is the safest stool I found for kids.
As toddlers, my kids would stand on the learning tower and make orange juice.  It is a pretty safe appliance for toddlers and lots of fun. They seem to like noisy appliances that spin!
Nowadays, my daughter likes cutting potatoes to make Crispy Baked French Fries.  Every morning she cuts herself some apple slices and has that with peanut butter or sunflower seed butter.  She makes lots of yummy fruit salads, french toast and even oatmeal!
My son loves to bake.  He helped me make these Pumpkin Pie-lets and completely took over the recipe!  These were SO good and healthy!  Now that he has several years of experience in the kitchen, he can tell me if a recipe needs more salt, cinnamon, or sweetener.  He has great sensibility in the kitchen.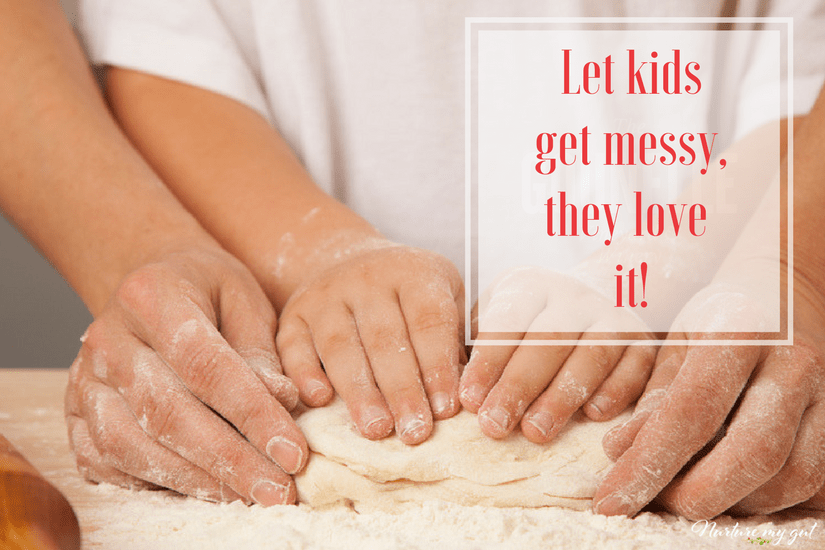 Teach Your Gluten Free Kids Basic Cooking Skills:
Give them a task that is age appropriate.  Young toddlers can stir or whisk.  Many times I double a recipe to teach them new skills.  I make one recipe and they watch and follow along with their own bowl.
For example, I measure a cup of flour, and then they measure a cup of flour, etc.  Also, making a double batch of a recipe allows you to freeze food for later, very smart thinking!  Place your flour in large plastic tubs so that it is easy to scoop out and measure.  Also, label your tubs so your kids can recognize which flours are gluten free. You can find my printable gluten free pantry labels here.
Give Your Gluten Free Child Freedom in the Kitchen as they get older:
As they get older, give them instructions and observe.  Yes, let them do the preparation as soon as they are ready!
Be patient!  Yes, it will take longer to make a meal but trust me, this will pay off!  They will not only be self sufficient adults, but one day they will surprise you with something really special.  My daughter does this all the time and it melts my heart!  She even cooks for her friends!
Acknowledge Your Child's hard work and effort:
Acknowledge them always for all their efforts and hard work.  When you acknowledge them for their effort and not their success, they will always be willing to try again.  The kitchen is a great place to build a growth-mind-set and build resilience!  This article explains well the benefits of praising kids for effort versus their successes. 
Also, ask your child for their opinion.  Ask how does a recipe taste?  Do you like it?  What should we add?  If things fall and break, I say no problem, I break things sometimes too.  If an egg cracks, it's okay, ask them what should we do?  Teach them to help clean up spills.  There will be messes.  Don't throw in the towel!
As they get older, they will be more careful.  Kids want to please their parents and if you yell and scream, the kitchen will not be a fun safe learning environment.  Breathe deeply when accidents happen.
Create a Routine for Teaching Your Gluten Free Kids to Cook:
Be consistent!  Whether your kids are helping daily in the kitchen or once a week, keep it regular so they can grow and develop in their skills.  They also want to know what to expect and look forward to.  If they know that every Saturday, they get to bake something special with you, they will be asking you every day, when is Saturday!  Is it baking day yet?  Keep it regular and consistent!
If it is not a good time to have kids in the kitchen during the week, select a day when you are more relaxed and invite the kids to help.  It can be Mommy Daughter/Son cooking day.  It is a very special time.
As a Mom, you will feel so much joy when your gluten free kids learn to cook!  They will feel satisfied making meals for themselves and even for others!  It all begins with you Mom!  Set up a space for them in the kitchen, start as young as possible, let them get dirty and have fun, teach them different skills according to their age and ability and be consistent!  Before you know it, they will be confident in the kitchen and have skills that will last them a lifetime!
For more delicious healthy gluten free/Paleo-ish meals, please subscribe below.  You will get my free Paleo Breakfast E-Book as my gift to you and new recipes straight to your inbox! 
Latest posts by Ester Perez
(see all)