Printable Gluten Free Pantry Labels-made with a beautiful black wide script font.  Download eleven sheets of labels for your gluten free pantry and print onto clear sticker paper from my FREE RESOURCE LIBRARY.  These printable gluten free pantry labels really gave my kitchen a face lift!  They look fabulous.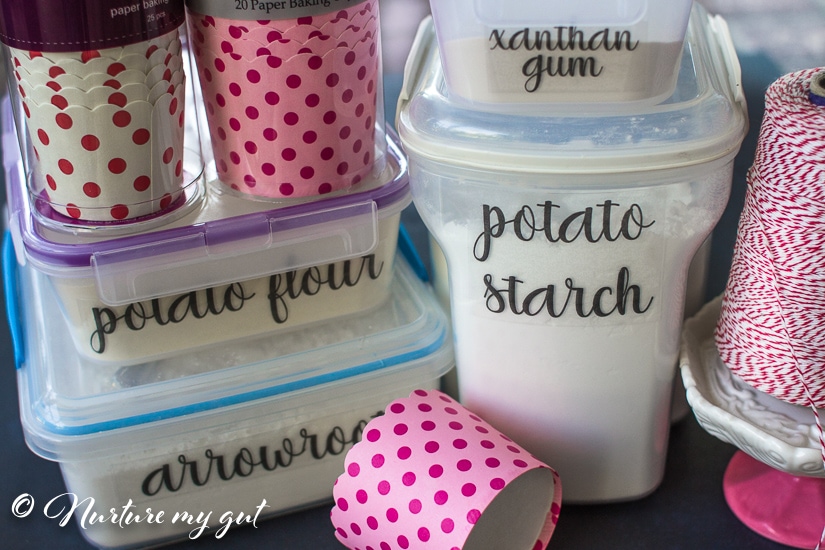 After I saw a blog post for Free Printable Pantry Labels on the Creativity Exchange blog earlier this year, I have been dreaming of creating some gluten free pantry labels for my kitchen.  I absolutely love the labels Jo created, but there was one caveat…it did not have GLUTEN FREE PANTRY labels!  Ugh!  I had to figure out how to create this on my own!
After searching for months trying to figure out how to create my own printable gluten free pantry labels, I saw a great youtube tutorial by Abby Lawson from Just a Girl and Her Blog.  She goes over how to create labels on Canva.  This is SO easy, anyone can do it!  I am going to go label crazy in my home now that I know how to do this on clear sticker paper!  You can watch her tutorial video on Youtube called "How to Make Pretty Labels with Canva" here.  I never thought about using canva for my pantry labels!  What a great idea!  If you would like to create your own beautiful printable labels at home, I highly recommend her tutorial.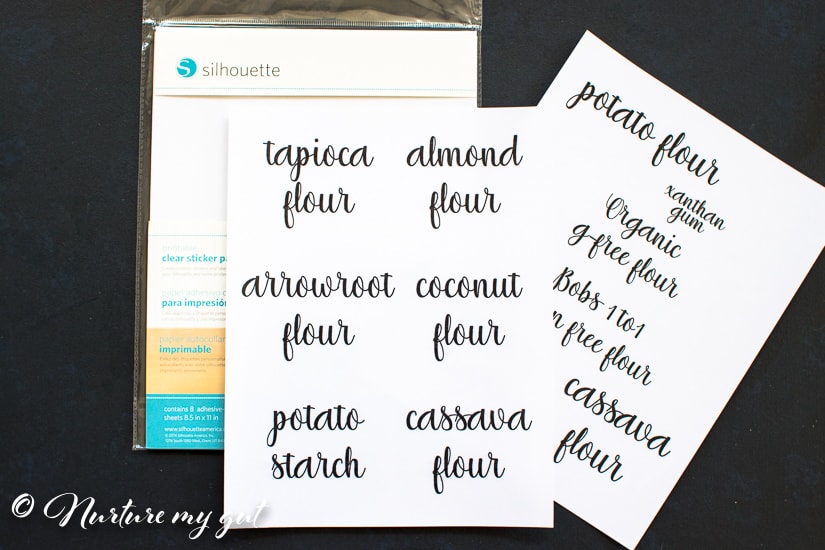 (This post contains affiliate links for your convenience. Click here to view my full Disclosure Policy.)
The first thing I did was look around for a lovely font for my labels.  This had to be a font that licenses me to share not only on my blog, but commercially.
I found a gorgeous handwritten font called Cassidy on Etsy, by Antony Stinson.  He personally gave me full rights to share my creations with this font.  There are several handwritten script fonts to choose from on Etsy, but if you are looking for something free, Canva would be a great place to look!
Then, I purchased some Silhouette Clear Sticker Paper.  This type of paper is like a giant sticker sheet, you can basically print anything on it, on any color and just cut it out and paste it where you like!  Pretty amazing, right?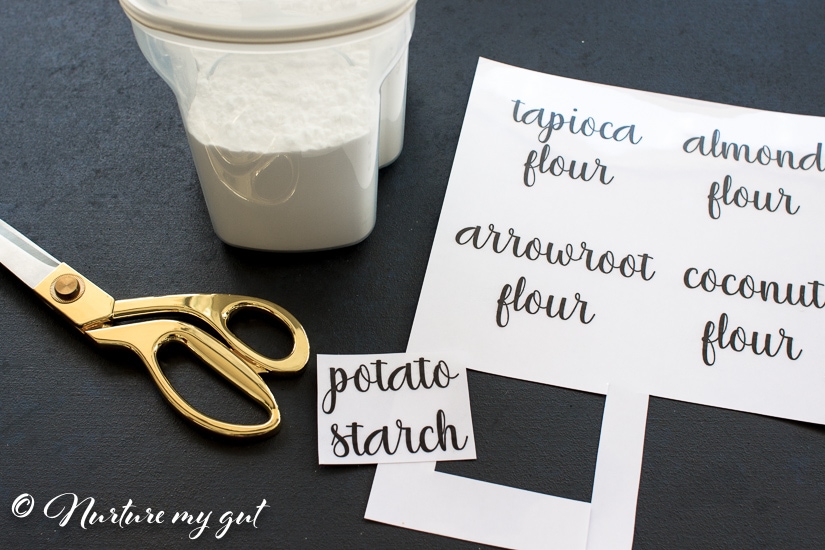 After creating the labels in Canva, I just printed these on my regular ink jet printer.  I am sure the quality would be much better on a Silhouette machine, but I think these did the trick with my good old Epson printer!  But I am going to be investing in a good printer soon for my upcoming projects!  Any suggestions?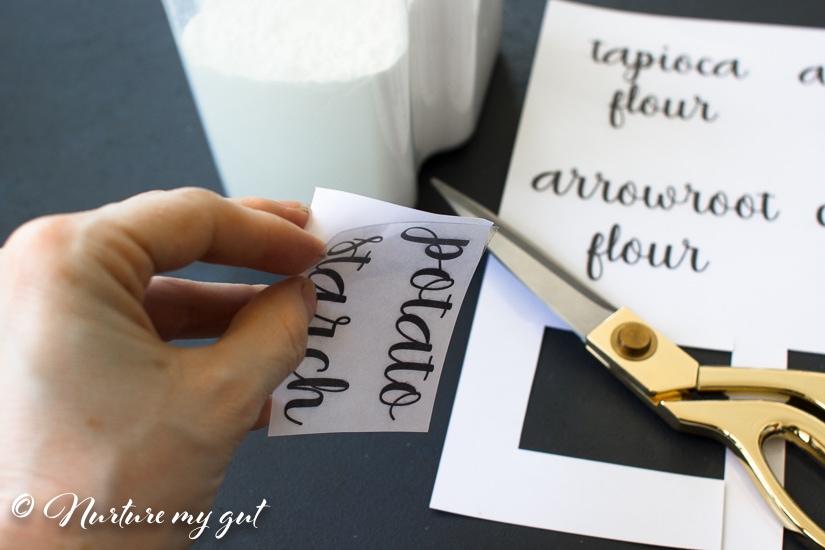 Be sure to place your clear sheets in the printer the right way, I did a test run on plain paper before actually printing my gluten free pantry labels onto my clear sticker paper.
Allow your printable gluten free pantry labels to dry COMPLETELY before cutting.  I have read that it takes up to 15 minutes, but I let mine dry for an hour!  Just in case!  I used that time to clean out my pantry, throw out expired items and refill containers with flour.
Next, I cut out the labels with scissors so they can fit each tupperware.  If you are using plastic bins, I suggest you get BPA free ones.  These are good sets: Oxo Airtight Pop Containers and Dragonn Airtight Food Storage Containers.   If you prefer glass storage containers, I suggest these 1 gallon mason jars. 
The wider jars make it easier to scoop out your flour when getting ready to bake.  I also like to add a measuring scoops to each bin.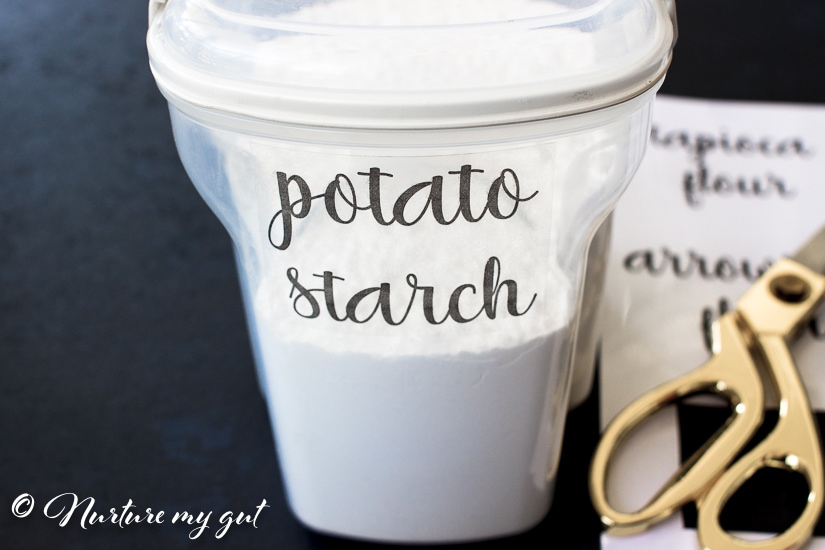 Once your label is cut, place it onto your clean container, yes clean!  Make sure there is no flour on the outside please!
Once your pantry label is on, press the outside with a clean towel.  I rubbed it hard to make sure it is stuck on good!
Write your expiration date on the bottom with an erasable marker and tape label to back side if you want to keep nutrition information on.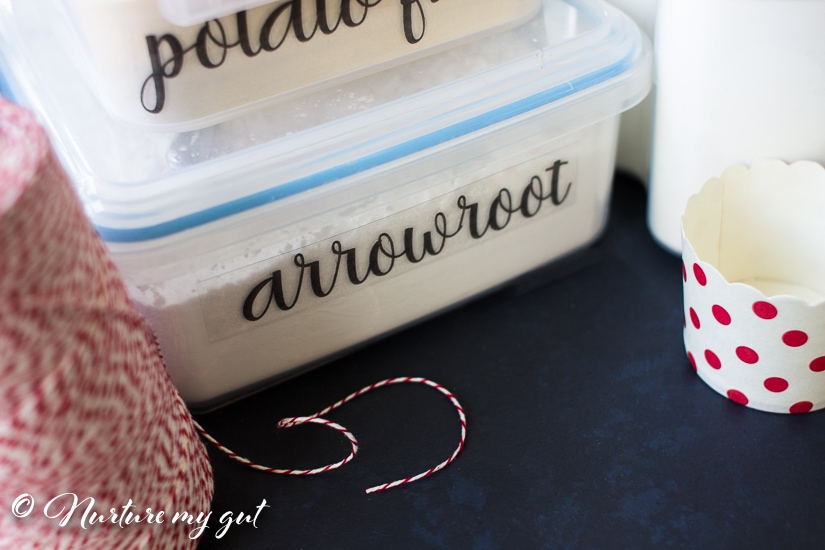 If you scroll down below, you will see a photo of my pantry and I honestly do not have a whole ton of gluten free flours!  Most of them are grain free but I keep one or two gluten free flour blends that are all purpose gluten free blends particularly for taking baked goods to my children's school.  My children's elementary school does not allow nuts and since most of my grain free flours are nut free, I like to keep these on hand!
My two favorite non-grain free/gluten free flour blends for baking are Bob's Red Mill Gluten Free 1 to 1 Baking Flour and Arrowhead Mills Organic All Purpose Gluten Free Flour.
Several gluten free flours have been added to this printable to make it more complete.  If you want a complete list of gluten free pantry items, please check out my Ultimate Guide to a Gluten Free Living and the Ultimate Gluten Free Pantry Clean-out.
If you want a complete printable of gluten free pantry labels, you can subscribe to my Free Gluten Resource Library . I have allergy free labels, ebooks & cheat sheets too!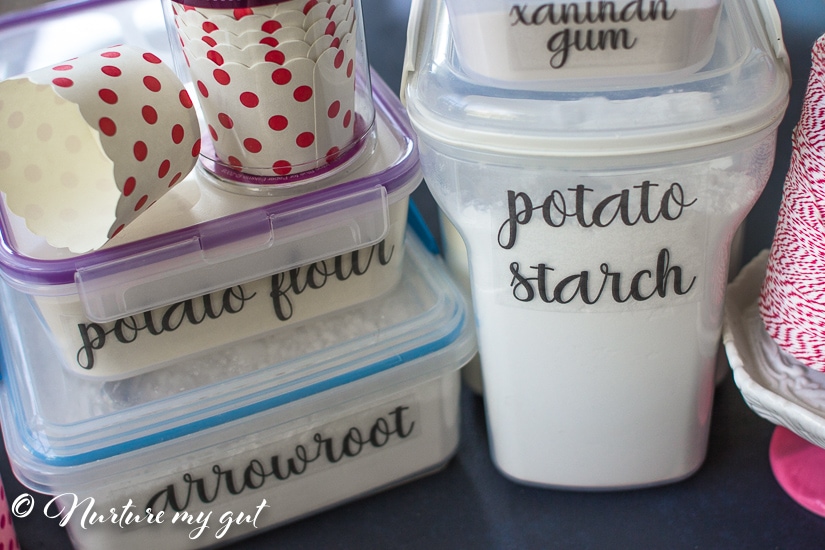 Printable Gluten Free Pantry Labels Page 1:
tapioca flour
almond flour
arrowroot flour
coconut flour
potato starch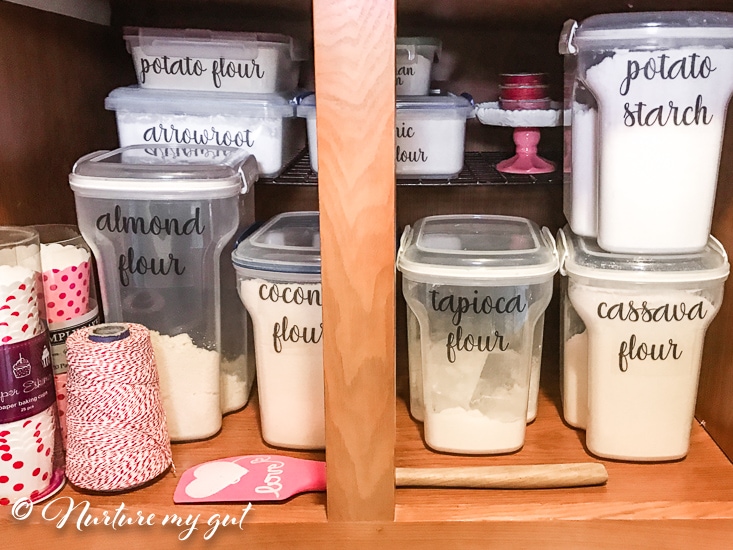 Printable Gluten Free Pantry Labels Page 2:
potato flour
Bob's 1 to 1 gluten free flour
xanthan gum
baking powder
baking soda
coconut sugar
cornmeal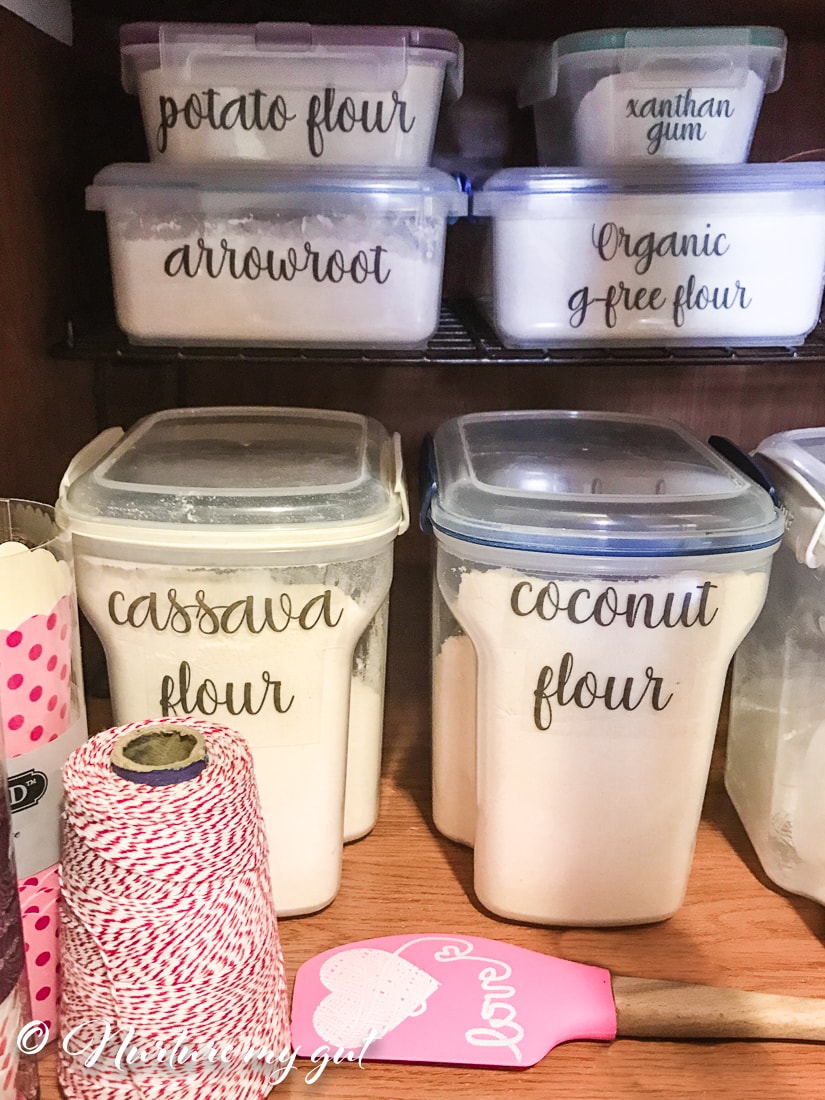 Printable Gluten Free Pantry Labels page 3:
rice flour
teff flour
chickpea flour
oat flour
Subscribe below for immediate download of your Printable Gluten Free Pantry Labels!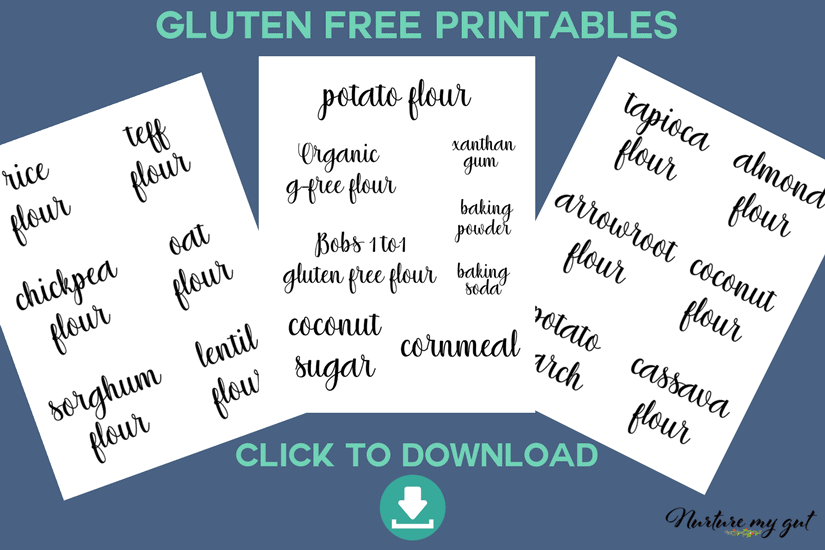 If you are looking for more Printables on Nurture My Gut, I have some cute St. Patrick's Day Healthy Treat Bag Printables  and St. Patrick Day Blessing Printables. I will have more coming soon to the blog so stay posted!  These are some of my favorite things to create!
I hope you enjoy these printables as much as I have!  My kitchen pantry got a beautiful facelift with these gorgeous labels!  Thank you Antony for the amazing hand written Cassidy script font!
Please tag me on Instagram or Facebook with your images, or simply email me at [email protected]
Be sure to subscribe below for more tips on gluten free living and delicious gluten free recipes!  You will get my free Delicious Paleo Breakfast ebook as my gift to you!

Latest posts by Ester Perez
(see all)