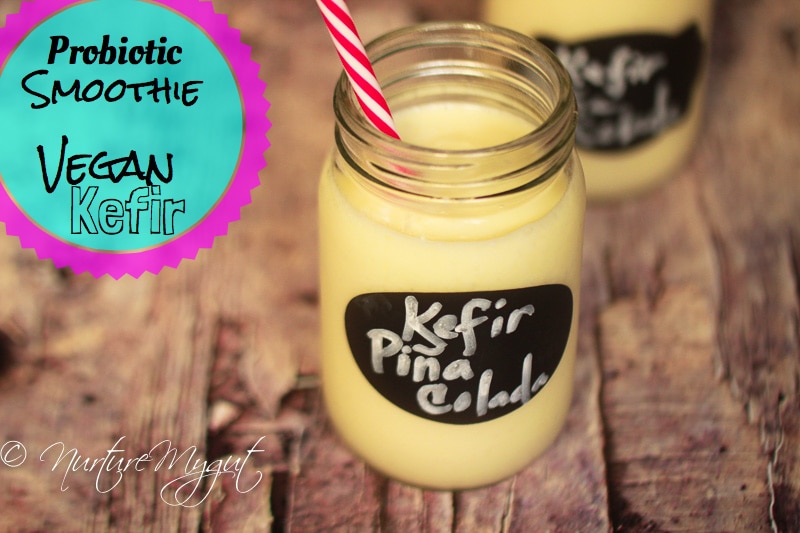 Coconut Kefir Piña Colada
"Wow!  Ice cream for breakfast, cool!"  said my youngest after he tasted his Coconut Kefir Piña Colada Smoothie.  Oh yeah!  I hit the jack pot!
I was just browsing one of my favorite raw food cookbooks called Raw Food/Real World: 100 Recipes to Get the Glow
 by Matthew Kenney and Salma Melngailis.
I saw a delicious raw vegan Piña Colada and got inspired to make something similar that was fermented.
Coconut Kefir is the most potent and effective fermented food that I make so I decided to make my own version using this powerful superfood!  Let the magic begin!
Why Coconut Kefir?
My son has had a huge drop in his immune system this last year and repairing the gut with fermented foods such as homemade coconut kefir has made a HUGE difference in his health.
Did you know that up to 80% of the immune system resides in the gut?  Healthy gut, healthy immune system.
We are currently giving him cultured vegetables and coconut kefir on a daily basis to build his immune system back up.  He is not too excited about having it plain so I find creative ways to make coconut kefir.
Some of my other creations are Coconut Kefir Parfait served in a  fancy wine glass and Coconut Kefir Smoothie disguised in a fun purple color.
I am not talking about wild fermentation.  I am talking about adding a culture starter that has POTENT beneficial bacteria and yeasts that feed on pathogenic bacteria in your gut.
YOU ARE GROWING YOUR OWN LIVE PRO-BIOTICS!!!  This is powerful stuff!
If you do not know how to make coconut kefir, all you do is get some fresh coconut water from a young Thai coconut, add it to a glass mason jar, add a packet of kefir starter from Body Ecology, put a lid on the jar and leave it on your counter for 24-48 hours.
It will then be fermented and have lots of healthy bacteria and yeast that feeds on candida.  Wa-la!  You have Coconut Kefir!  Yep!  It is that simple.
Fermented foods are a big thing in my house and when family, friends and clients come over, I love to share the different fermented foods that I make or buy.
I currently have Fermented Dill pickles, cultured veggie juice, coconut kefir pudding, coconut kefir, kombucha and cashew yogurt.
This Coconut Kefir Piña Colada Smoothie is sooooo good that you won't even know it is full of good bugs!  An army ready to do good work in your gut!  Put those soldiers to work people!  We need them!
If your immune system is low, consider making fermented foods.  They are affordable and it IS really easy to make.
I will have some fermented food tutorials coming up for you in the near future.  Check back soon and if you have a special request, share in the comments below.
I am using Stevia in this recipe to keep it low glycemic, feel free to use dates, coconut nectar or raw honey if this is not a problem for you.  I hope you like this recipe and if you don't want to make coconut kefir at home, you can actually buy CocoBiotic, which is Body Ecology's already made coconut kefir.
The only downside about buying it made is that if you are giving this to a child, it will be very strong and tangy.  When you make it yourself at home, you can ferment it to the point where it is still slightly sweet( 24 hours), making it a perfect healthy fermented food for a child.  Trust me on this!  The good thing about buying CocoBiotic Coconut Kefir already made is that it IS STRONG and already done for you!
For more delicious healthy gluten free/Paleo-ish meals, please subscribe below.  You will get my free Paleo Breakfast E-Book as my gift to you and new recipes straight to your inbox!
Check out these delicious healthy gluten free recipes:
Restorative Banana Ginger Green Smoothie
Print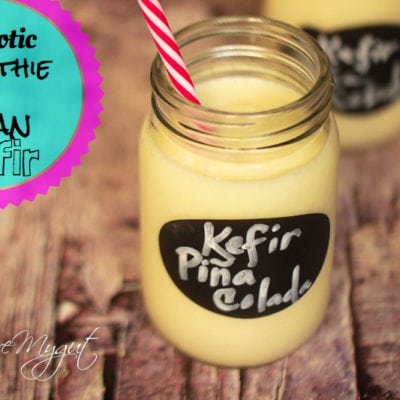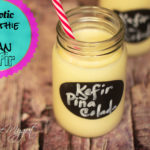 Coconut Kefir Piña Colada Smoothie
---
Author:

Ester Perez

Total Time:

5 minutes

Yield:

2

servings

1

x
Description
Ice cream for breakfast, cool!"  said my youngest after he tasted his Coconut Kefir Piña Colada Smoothie.
---
1 cup

young Thai Coconut Meat

2 cups

frozen pineapple

1/2 Tablespoon

fresh lime juice

1 cup

coconut kefir (liquid, not the pudding)–add this last to preserve bacteria

12

drops vanilla stevia or preferred sweetener

6

ice cubes
---
Instructions
Add all ingredients excluding coconut kefir to the blender and blend on high. Once ingredients are fully incorporated, add coconut kefir and blend on low until mixed in. This ensures that the bacteria are still intact.
Prep Time:

5 mins

Category:

Breakfast
Latest posts by Ester Perez
(see all)