Homemade Vegan Yogurt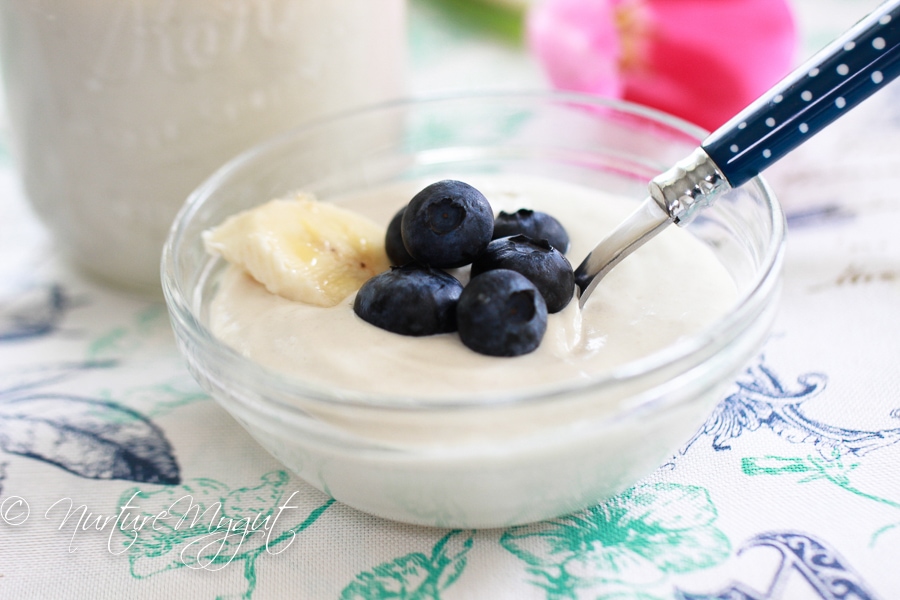 Want to make your own non-dairy, gluten-free, soy free pro-biotic rich homemade vegan yogurt?  I have a delicious and easy recipe for you!  There is no equipment needed.  That's right!  No yogurt maker or thermometer required!
In this homemade vegan yogurt, I am using raw cashews because they will make a creamy and mild flavored yogurt.  You can use this as a base to make savory tzatziki, dressings, flavored yogurt or simply eat this plain with fresh fruit.
You can make a delicious Vegan Yogurt Parfait for breakfast or as a power snack.  Check out the link for a complete recipe.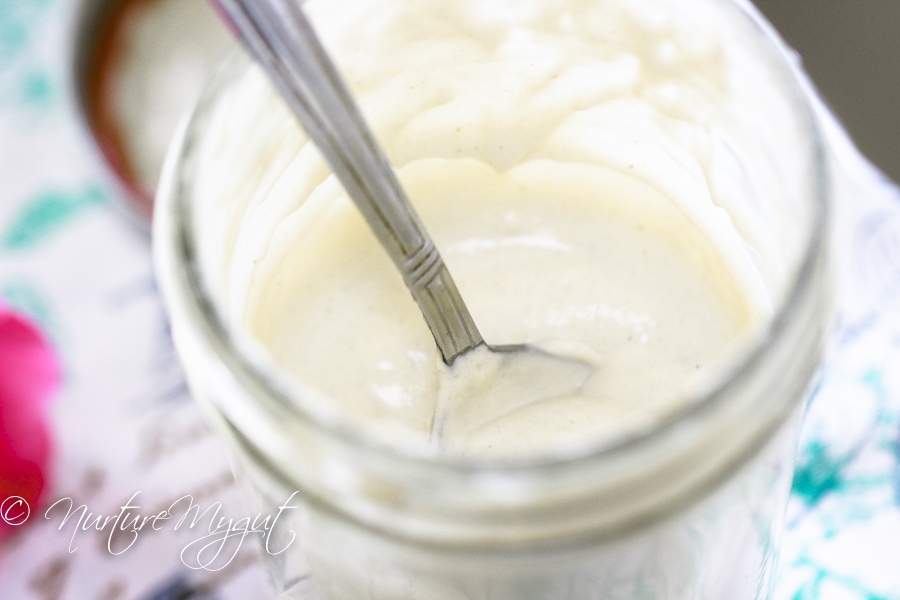 Last month I tried a new pro-biotic highly recommended by my chiropractor and to my surprise, it was in a powder.  I had been wanting a pro-biotic powder to make a homemade vegan yogurt with and was looking for a high quality pro-biotic that I could use to culture with.  After trying this pro-biotic in water, I realized that it highly improved my digestion (lets just say if you need to "go more", use this!) and that I would give it a go to culture with.
I have been buying the best vegan yogurt from my local farmers market made with cashews and my tummy has been very  happy.  They have plain, chocolate, tzatziki and cream cheese, all vegan.  I have been thrilled with my yogurt, but to my dismay, on several occasions, there has been no tzatziki or at rare occasions, no stand 🙁
I decided that I had to figure out how to make this myself!  So when I got this powdered pro-biotic, I decided to give it a shot!
I soaked the cashews in warm water for an hour, then I rinsed them, added them to my Vitamix blender (food processor works too!) with a little bit of psyllium hulls to give this a creamy yogurt-like texture, added a date, some water and blended until creamy and smooth.  I poured this mixture into a pint-sized mason jar and stirred in my pro-biotic powder. ( I use the Ultra Flora Synergy)
I placed the lid on loosely, wrapped the jar in a towel and placed in a cooler bag in the pantry.  The jar was slightly warm.  I let this sit for 24 hours.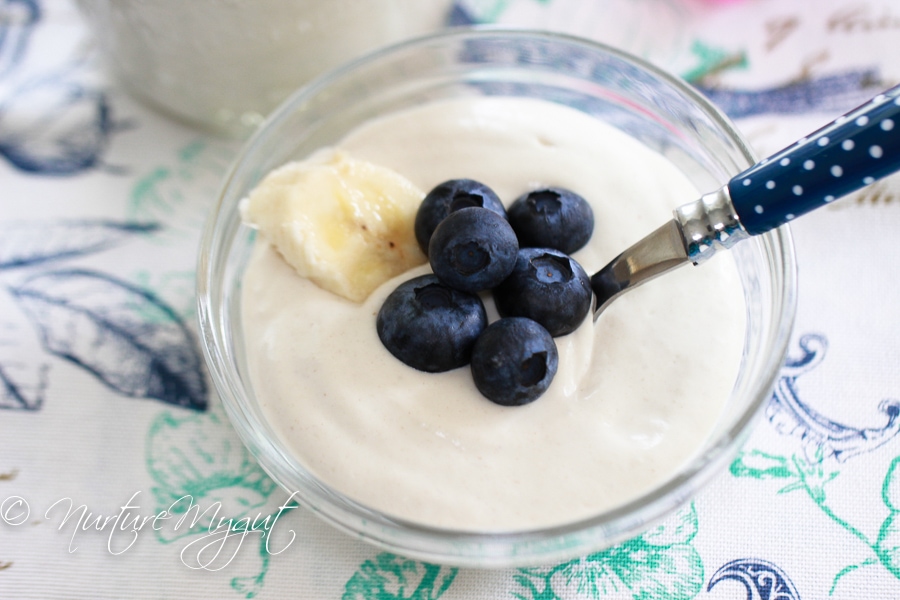 The next day, the homemade vegan yogurt was slightly tangy and still slightly sweet from the added date.  It was PERFECT!  I then placed this in the fridge to chill.
I even had my husband blindly test between the farmers market yogurt and my own and he did not know the difference!  Wow!  I was thrilled!  I discovered how to make the best vegan yogurt!  Yay!
The next day, I had this homemade vegan yogurt for breakfast with sliced bananas and blueberries.  I did not need to add any additional sweetener.
I will definitely be making other recipes to share with using this vegan nut yogurt!  It lasted in my fridge for two weeks!  I am excited to make a tzatziki for you!  Let me know if there is a recipe you would like with this yogurt.  Maybe some vegan yogurt popsicles??  I always love to create new recipes you will love, especially those that are extremely nourishing to your gut health and immune system.
Eating fermented foods will keep opportunistic bacteria(the bad guys) and pathogenic yeast down and your good flora up!
Bad bacteria and good bacteria need to live in balance in our gut, we actually need both, but when the bad guys take over, they cause all sorts of havoc in our gut, from bloating to upsets stomachs and  major digestive distress.
There are between 500 to 1,000 different types of bacteria in our intestines.  We have trillions of microbes in our intestines and eating fermented foods or taking a pro-biotic supplement will help this amazing community in our gut.
So how do you know which bacteria to take?  Here are some key pro-biotics and how they benefit our health.  (The findings below are from different sources, click on link for more detailed info on the specific probiotic)
Lactobacillus: "used for treating and preventing diarrhea, including infectious types such as rotaviral diarrhea in children and traveler's diarrhea. It is also used to prevent and treat diarrhea associated with using antibiotics".  Some use this for preventing the common cold(specifically lactobacillus rhamnosus), yeast infections and UTI's.- Web-MD
Bifidobacteria: "has been studied for its ability to prevent and treat various gastrointestinal disorders, including infections, irritable bowel syndrome and constipation."-Dr. Oz Probiotic Fact Sheet 
Lactobacillus Acidophilus: a study found that this probiotic has the potential of reducing the risk for coronary heart disease by 6 to 10%.-Pub-Med
As you can see, including probiotics in our diets on a regular basis has benefits for our overall health and well-being.
The probiotic that I am using has Lactobacillus acidophilus and Bifidobacterium lactis so now I understand clearly why it has improved my digestion.
When my family was on The Body Ecology Diet for 3 months, which incorporates eating fermented foods on a daily basis, we did not get sick for about 9 months!  That was a record for my daughter who was previously sick every month in pre-school!  Her teacher told us, "Whatever you are doing, keep doing it because everyone in class is sick and your daughter is the only one not getting it!."
If you want to learn how to rebuild your gut, I highly suggest you read my blog post: "What Is The Body Ecology Diet" and "5 Steps to a Healthy Gut".  You will find a lot of useful information that will improve your gut health and immune system.
So if you are vegan or allergic to dairy, as I am (allergy), I hope that you can incorporate this Homemade Vegan Yogurt into your diet.  It is light, creamy, slightly tangy and slightly sweet.  Plus, it will bring lots of good warriors into your gut!
Please share in the comments below what recipes you have made with this vegan yogurt recipe!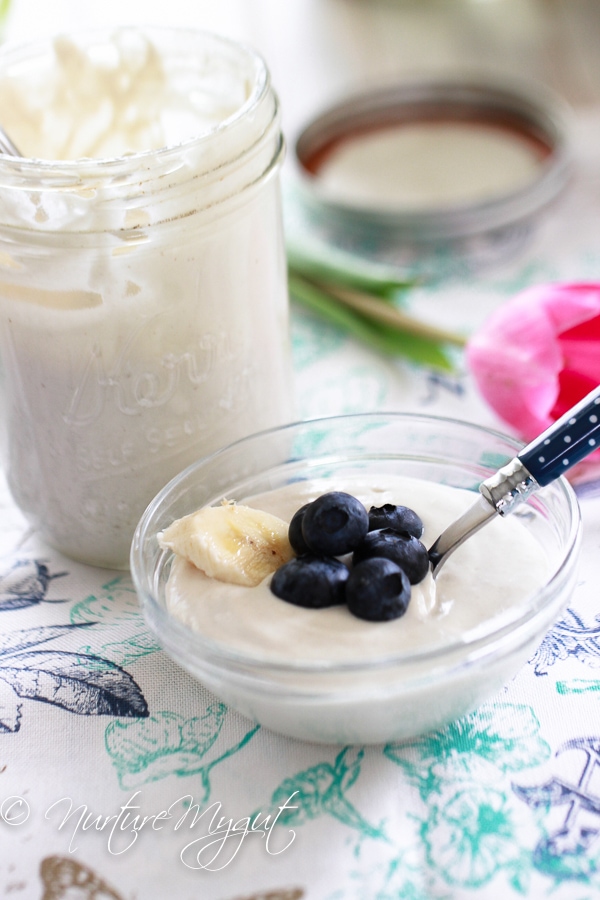 For more delicious healthy gluten free/Paleo-ish meals, please subscribe below.  You will get my free Paleo Breakfast E-Book as my gift to you and new recipes straight to your inbox!
For more fermented food recipes, check out:
Paleo Cashew Yogurt Parfait {Vegan}
Coconut Kefir Piña Colada Smoothie
Print