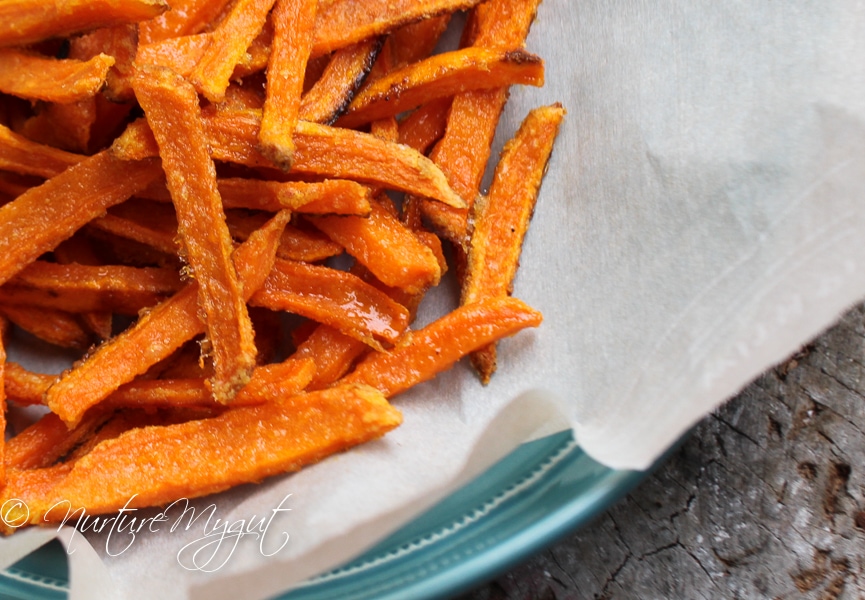 These are the Ultimate Crispy Oven Baked Sweet Potato Fries!  This fast & easy recipe will impress your guests and will become a family favorite.  This fool proof step by step tutorial will show you how to master this simple, yet delicious recipe.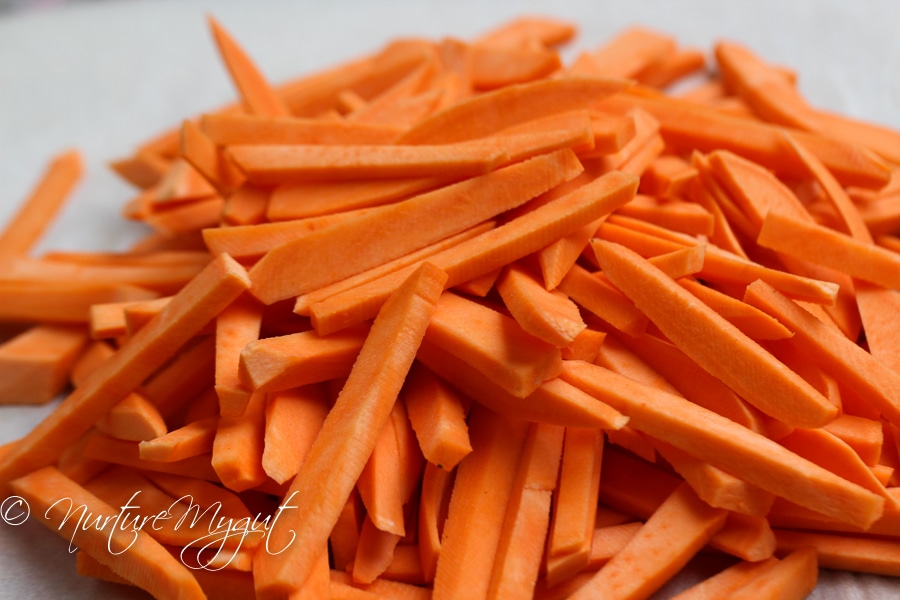 Sweet potatoes are my son's favorite vegetable.  They have been a staple in our house for the last 5 years.
I make sweet potato puree with cinnamon and vanilla, sweet potato pie and now, these Crispy Oven Baked Sweet Potato Fries.  If you have a favorite sweet potato recipe, please share in the comments below!  I always love to hear from you!
Let's get started with this easy step by step tutorial!  It's fool proof!
(This post contains affiliate links for your convenience.  Click here to view my full Disclosure Policy.)
How To Make Crispy Oven Baked Sweet Potato Fries:
You will need:
sweet potatoes
sharp knife, preferably a chef's knife-I LOVE this knife, but be extremely careful as it is super sharp the first month!  It has a forever warranty which is better than a lifetime warranty, it means you can pass these knives on to your kids.  Love these!
parchment paper for baking sheets
2 baking sheets, I love using 2 Baker's Half Sheets so they have enough room to get crispy
First, wash and peel your sweet potatoes.  Next, you will cut the ends off of your sweet potatoes so they are easier to slice.  Stand them up and cut them into slices 1/4 inch thick and then into match stick pieces.
It will be tricky to cut them since sweet potatoes are very thick.  I find it easier to use a sharp heavy chef's knife.  Just know that they do not have to be perfect!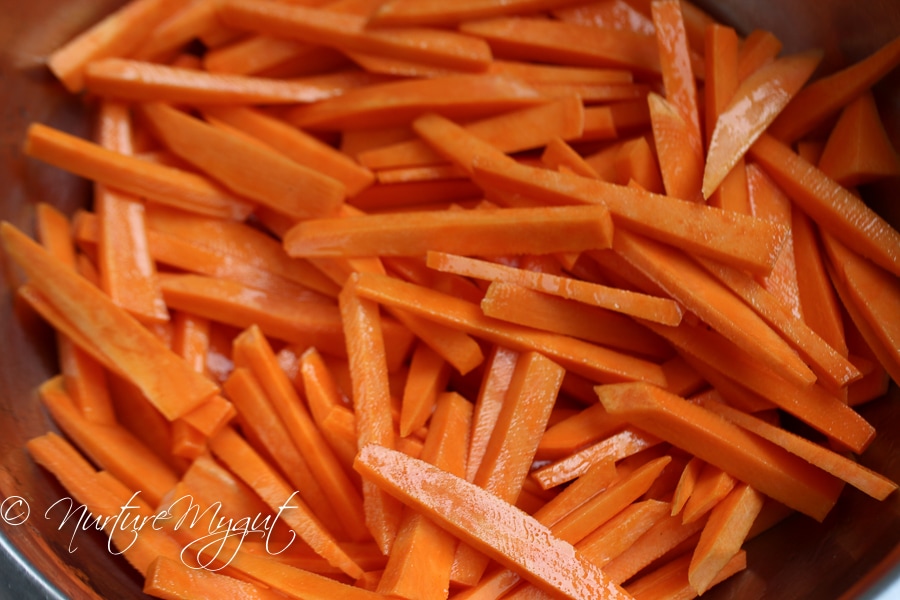 Next, drizzle avocado oil or melted unrefined coconut oil over your sweet potatoes.  Then, in another bowl, whisk together the tapioca flour, onion powder and salt.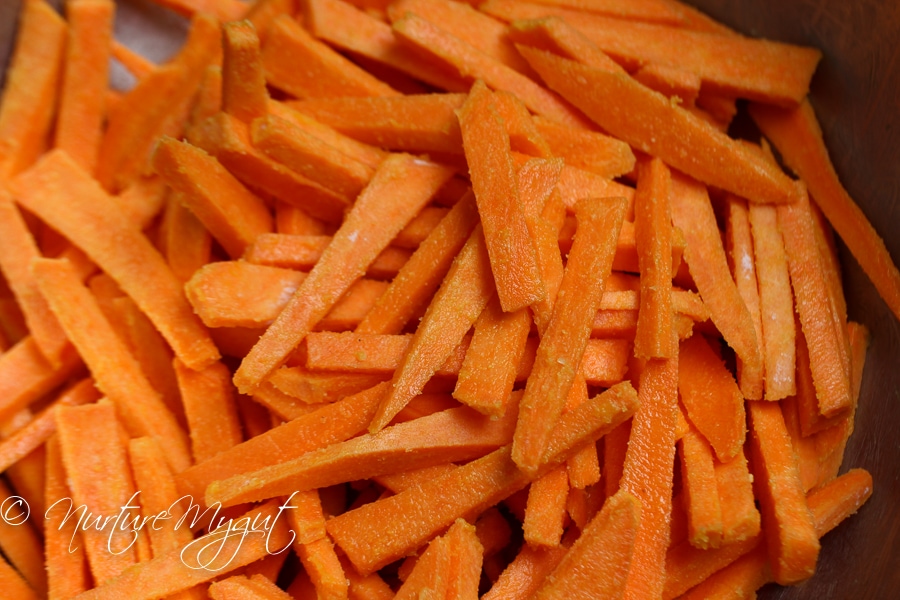 Toss the oiled sweet potatoes into the tapioca mixture until they are fully coated.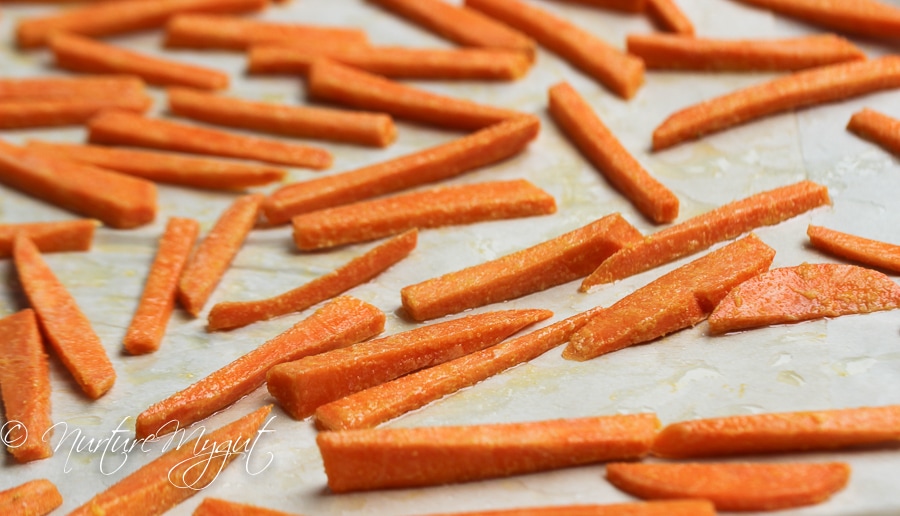 Grease your pan with oil and spread out your sweet potato fries throughout.  Be sure to create space between the fries.
I used 2 Baker's half sheets lined with parchment paper.  I absolutely love the size of these!  They fill up the whole oven!  I bake veggies and chicken in them every week!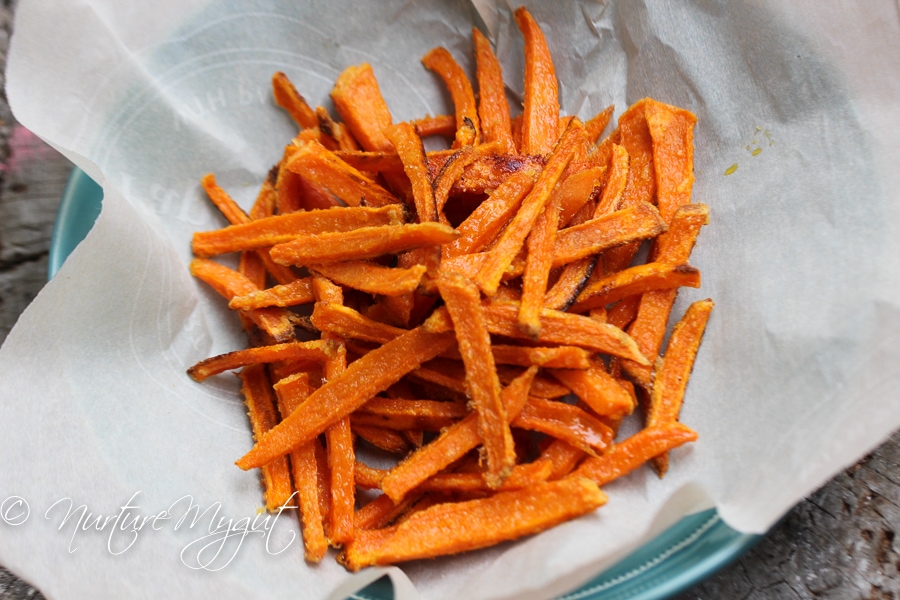 Place in a preheated 425 degree oven for 15-20 minutes.  My bottom tray was ready in 15 minutes and my top tray was ready in 20 minutes.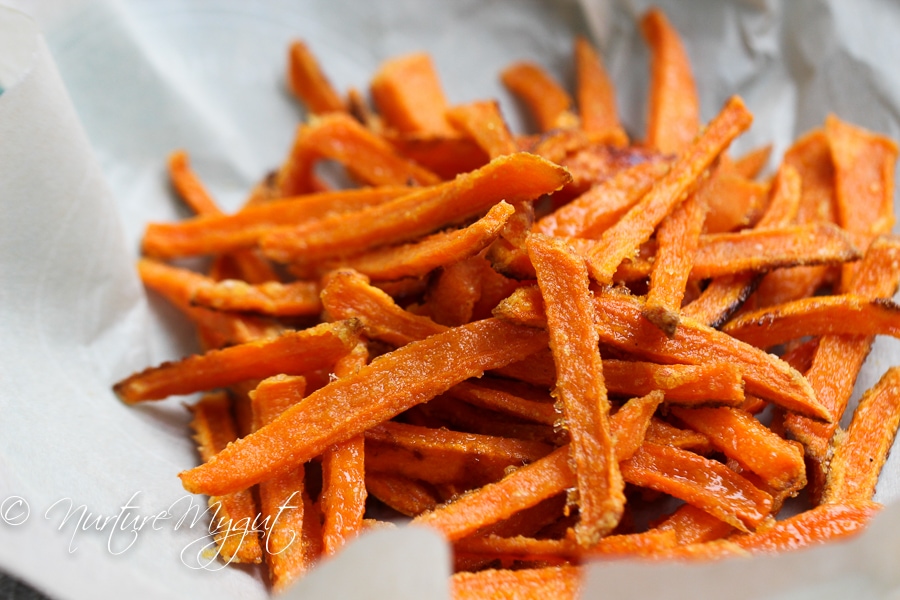 Place your crispy oven baked sweet potatoes on a plate lined with paper towels or parchment paper and serve hot.  These are sweet, crispy and the perfect appetizer!
For more delicious healthy gluten free/Paleo-ish meals, please subscribe below.  You will get my free Paleo Breakfast E-Book as my gift to you and new recipes straight to your inbox! 
Print
Crispy Oven Baked Sweet Potato Fries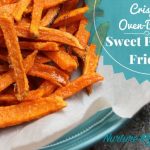 Author:
Prep Time:

5 mins

Cook Time:

20 mins

Total Time:

25 minutes

Yield:

4

Category:

Appetizer
Ingredients
2 large sweet potatoes
3 Tablespoons avocado oil or melted coconut oil plus more for baking sheet
3 Tablespoons tapioca flour
1 teaspoon onion powder
1 teaspoon salt
Instructions
Preheat oven to 425 degrees.
Peel sweet potatoes. Cut off ends and slice 1/4 inch thick. Cut into match sticks.
Place fries in a large bowl and toss in oil.
In aother large mixing bowl, whisk together tapioca flour, onion powder and salt. Add sweet potato fries and toss to coat.
Cover 2 large baking sheets with parchment paper. Spread a drizzle of oil over parchment paper and spread all over with your hands.
Distribute sweet potato fries between both baking sheets and do not let fries touch. Place both trays in the oven and bake for 15-20 minutes. The bottom tray should be ready in 15 minutes and the top tray in 20 minutes.
Using a spatula, place baked sweet potato fries in a serving dish lined with parchment paper or paper towels and serve hot. Enjoy!

I'm a loving wife, mother of two healthy children, andI am obsessed with teaching people how to make delicious and mouth-watering gluten-free/Paleo friendly foods that nurture your gut!
Latest posts by Ester Perez (see all)