Dragon Fruit Popsicles are a healthy, fast and delicious summer treat!  These brilliant pink popsicles are full of anti-oxidants, vitamin C and good fat for fueling brain cells!   Getting your kiddos to snack on these tropical super food pops will be a cinch!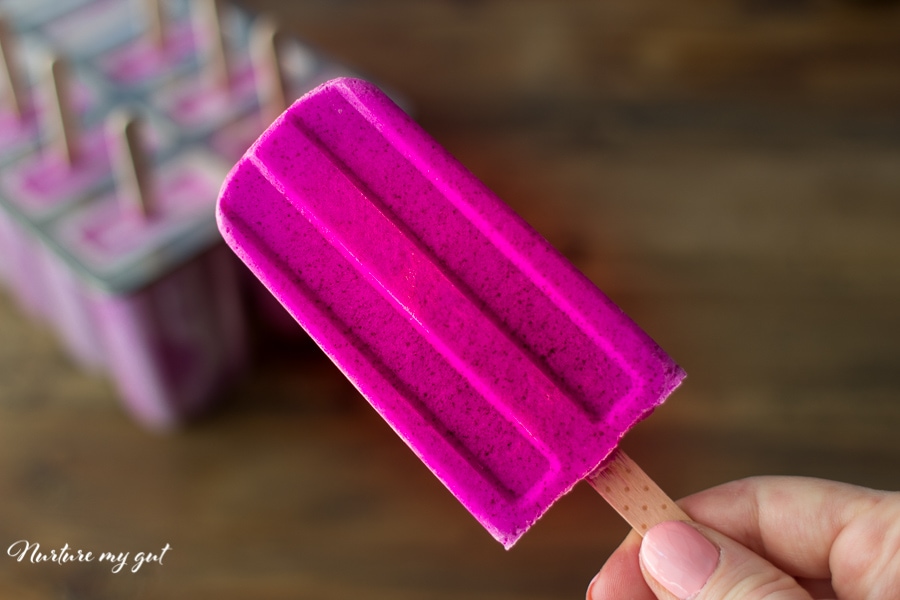 What is dragon fruit?
Dragon fruit is a unique and delicious fruit that tastes like a cross between a kiwi and a pear.  It is grown in Southeast Asia, Israel, Mexico, Central and South America.
It grows on the Hylocereus cactus, whose flowers known as "moon flowers" only open at night.  The flowers are pollinated by bats or moths during this short time.
This is where the unique dragon fruit grows from.  It is also known as pitaya, pitahaya and the strawberry pear.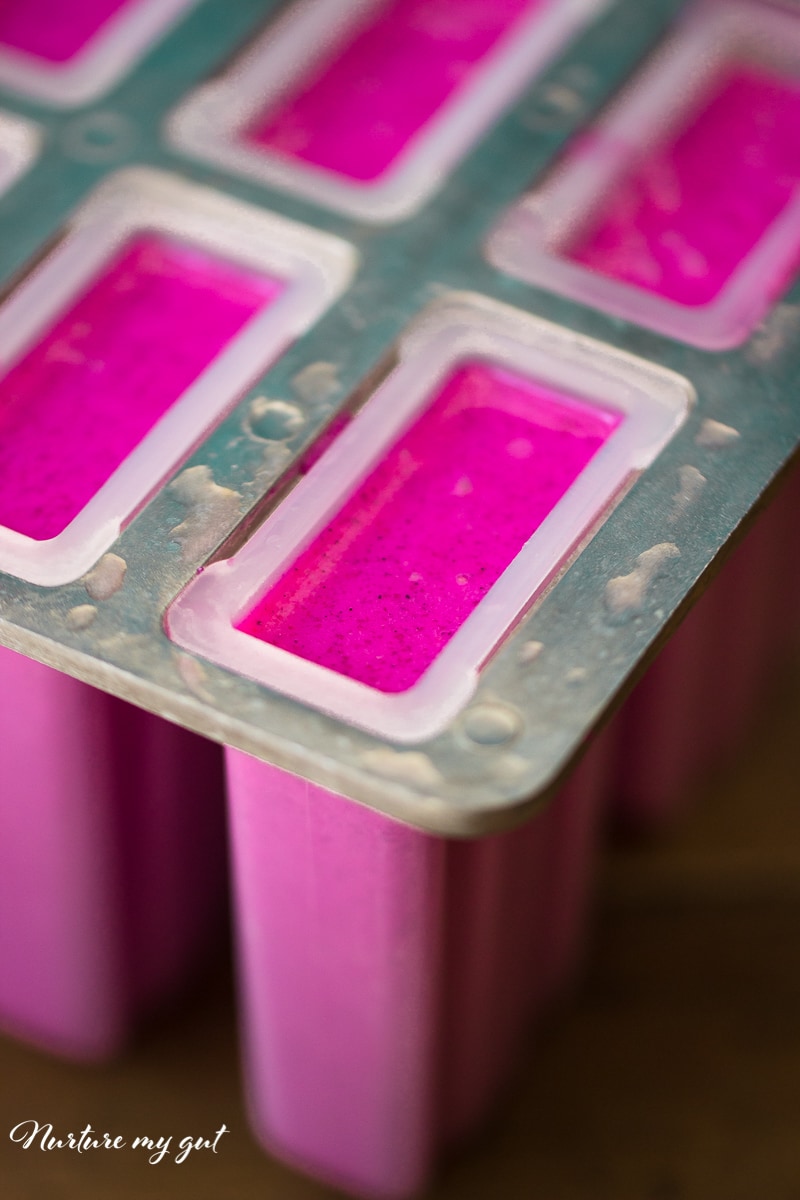 Health Benefits of Dragon Fruit:
Rich in antioxidants, vitamin C , polyunsaturated (good) fatty acids, and several B vitamins, as well as carotene and protein.
They are easy to digest due to the fact that they have zero complex carbs
"Eating dragon fruit can help the body maintain such normal function as ridding the body of toxic heavy metals".-Mercola
They are considered a tropical "superfood" due to it's wide health benefits.-Wikipedia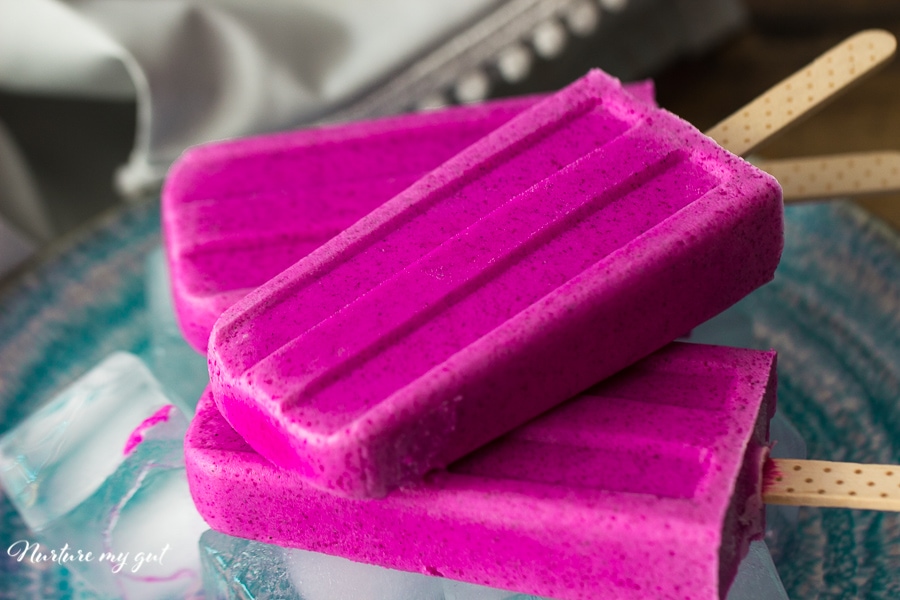 (This post contains affiliate links for your convenience. Click here to view my full Disclosure Policy.)
How to Make Dragon Fruit Popsicles:
Making Dragon Fruit Popsicles is easy!  First, add a dragon fruit smoothie pack to the blender along with coconut milk, a natural sweetener such as honey or maple syrup and some gelatin.  You can find dragon fruit smoothie packs in the frozen fruit section of your local grocery store.
I am using Organic Dragon Fruit Smoothie pack from Pitaya Plus from my local Sprouts market (FYI: this is not a sponsored post, I just really like their smoothie packs and ethics).   Pitaya plus has pretty amazing job ethics, they have provided over 250 jobs to single moms, operate out of a solar-powered facility and well, my favorite, their product is non-gmo and organic!  I like to support companies like that!
I added coconut milk for the added fat and brain boosting benefits and gelatin to help emulsify the coconut milk and dragon fruit.
Now, pour your mixture into popsicles molds and top off with popsicle sticks. I use these popsicle molds and decorative popsicle sticks.
Next, freeze for 2 hours or overnight.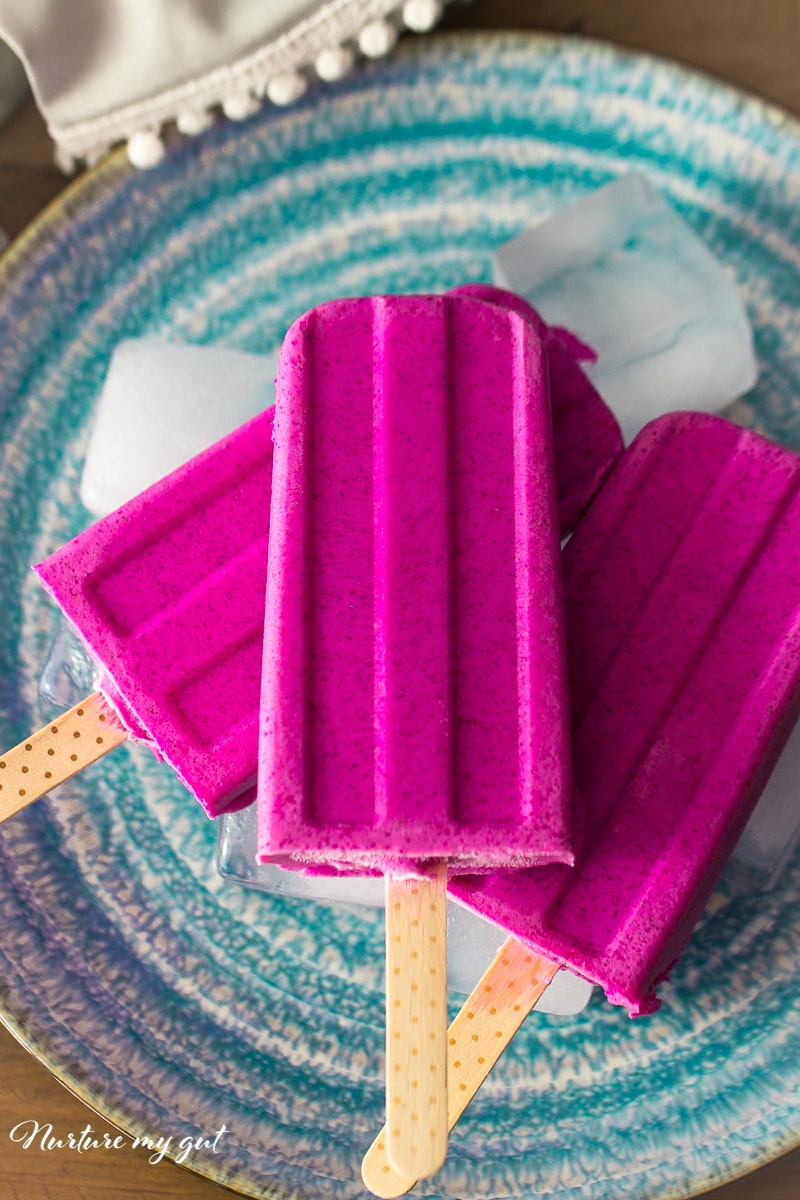 To release the Dragon Fruit popsicles from the mold, run some warm water under the popsicle.  You can do just one at a time and save the rest for later.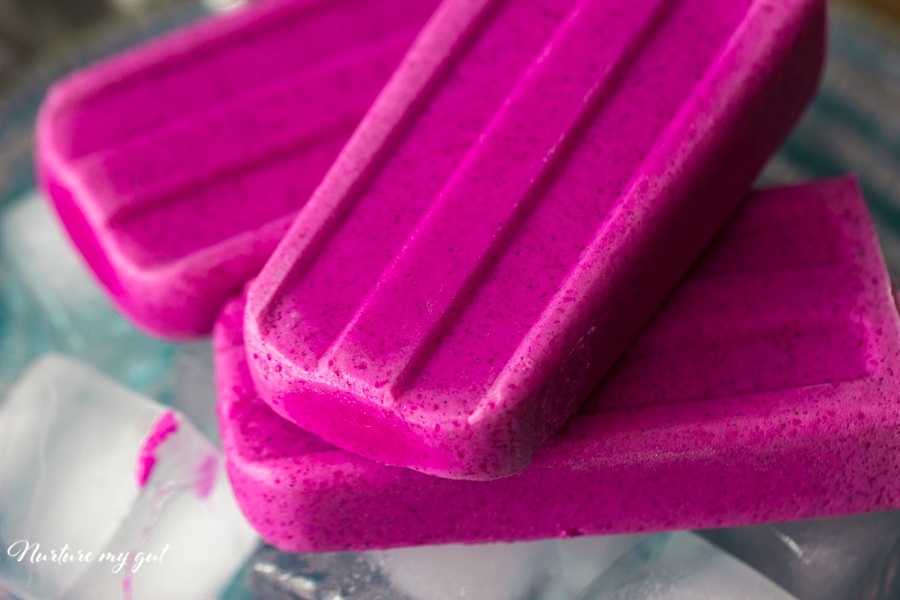 These Dragon Fruit popsicles have a coconuty fruity flavor.  I like to add just a hint of honey, but feel free to add more if you have more of a sweet tooth.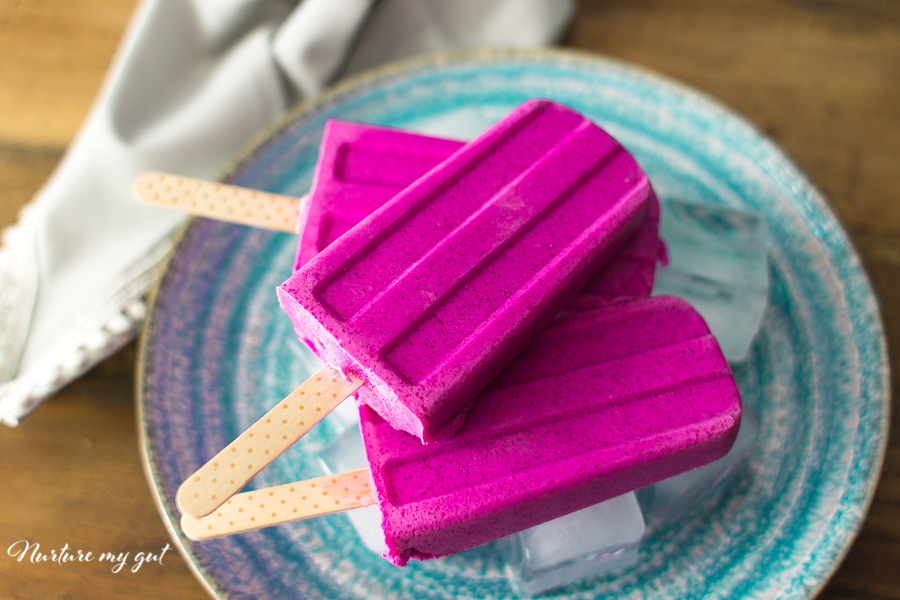 If you like these popsicles, I know you will also love my Strawberry Banana Popsicles and Strawberry Popsicles.  Both are all natural, healthy and kid approved!
Also, I have a Dragon fruit smoothie bowl recipe-this is perfect for your left over dragon fruit smoothie packs!
Be sure to make these fast, healthy and delicious superfood popsicles!  They will give your family an immune and brain boost and take no effort to make!  Yay for Mom!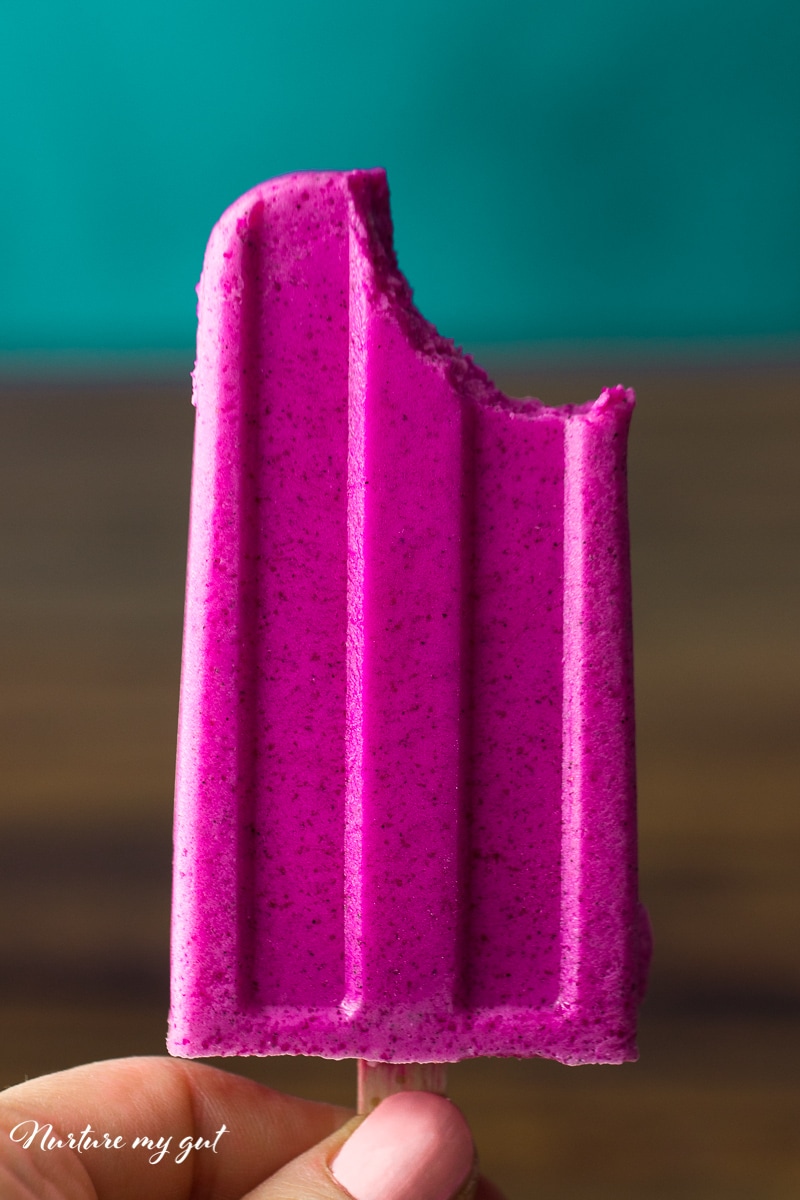 For more deliciously healthy gluten free recipes, be sure to subscribe below!  You will get my FREE Delicious Paleo Breakfast Ebook as my gift to you!
Print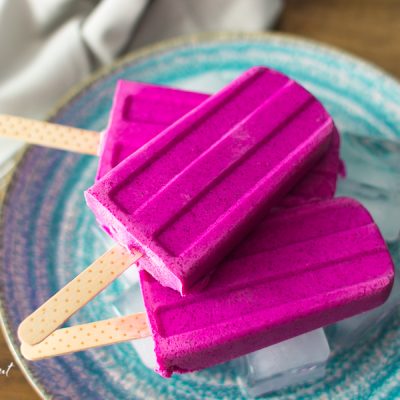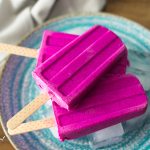 Dragon Fruit Popsicle Recipe
---
Description
Dragon Fruit Popsicles made with dragon fruit, coconut milk and honey.  Delicious, healthy and full of anti-oxidants!  Super easy to make!  Gluten free and dairy free.
---
1 (13.5 ounce) can full fat coconut milk
1 (3.5 ounce) dragon fruit smoothie pack
3 Tablespoons honey
1 teaspoon gelatin
---
Instructions
Add all ingredients to a blender and blend until smooth and creamy.
Pour dragon fruit mixture into popsicle mold, add popsicle sticks.
Freeze for 2 hours or overnight.  Makes 6-7 popsicles.
Prep Time:

125 mins

Method:

freeze

Latest posts by Ester Perez
(see all)