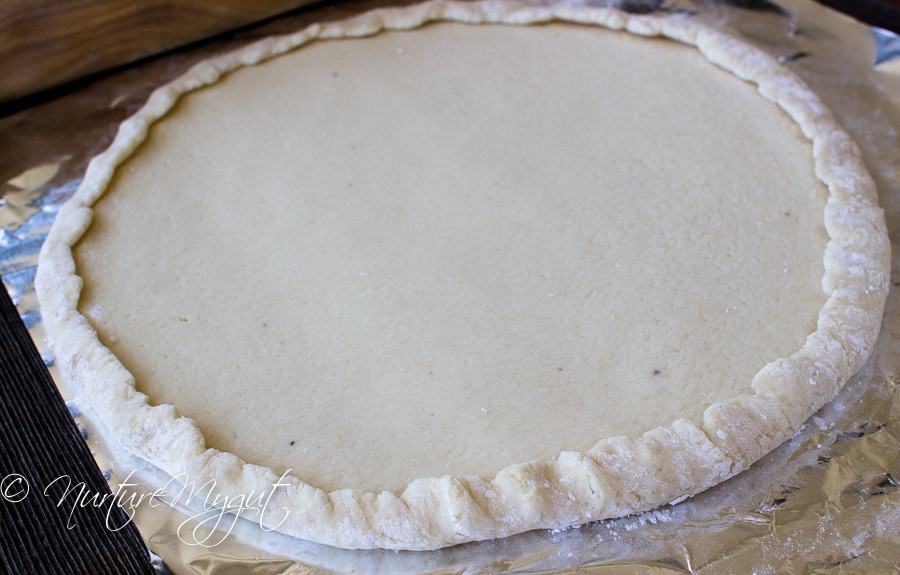 Best Grain Free Everything Pizza Recipe!  This easy homemade grain free pizza crust is made from blanched almond flour, tapioca flour and potato starch.  Top it with organic mozzarella or Vromage Artisanal Vegan cheese, pepperoni and fresh basil for a classic flavor that brings you back to your childhood.  Never miss out on pizza again!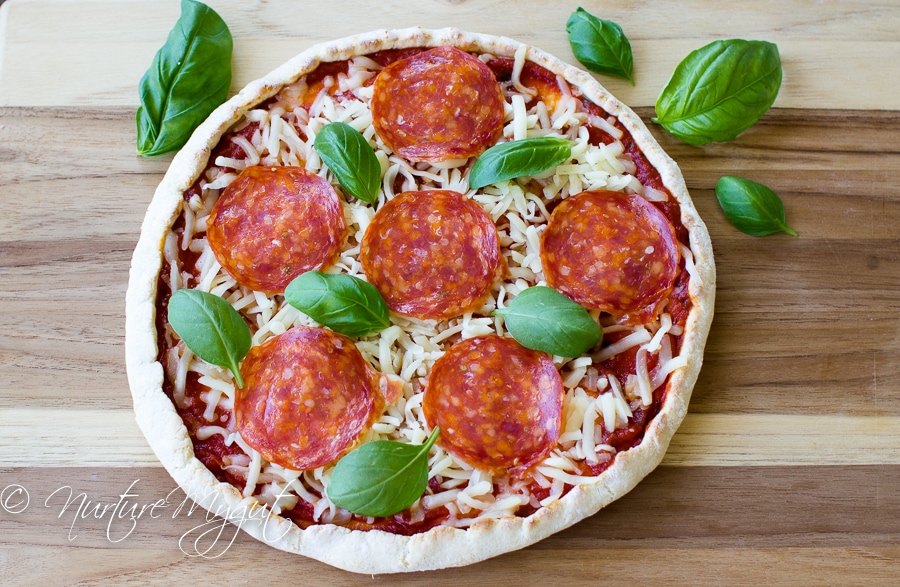 (This post contains affiliate links for your convenience. Click here to view my full
Disclosure Policy
.)
We have pizza night on Fridays at our house and it took me several years to come up with a pizza crust that my family was proud of eating.  We have several local restaurants that make pretty good gluten free pizza so a grain-free pizza recipe had BIG shoes to fill.  Finally, this grain free everything pizza recipe passed the test!
My husband says that this crust is similar to a calzone.  It has a nice soft and flavorful texture with a perfectly crispy crust.  So if you have been missing pizza because you don't do well on grains, this recipe is for you!
This crust is made from my Grain Free Everything Dough.  I have made pizza, cinnamon rolls, empanadas and pita bread from this.
How to Make Grain Free Everything Pizza:
You Will Need: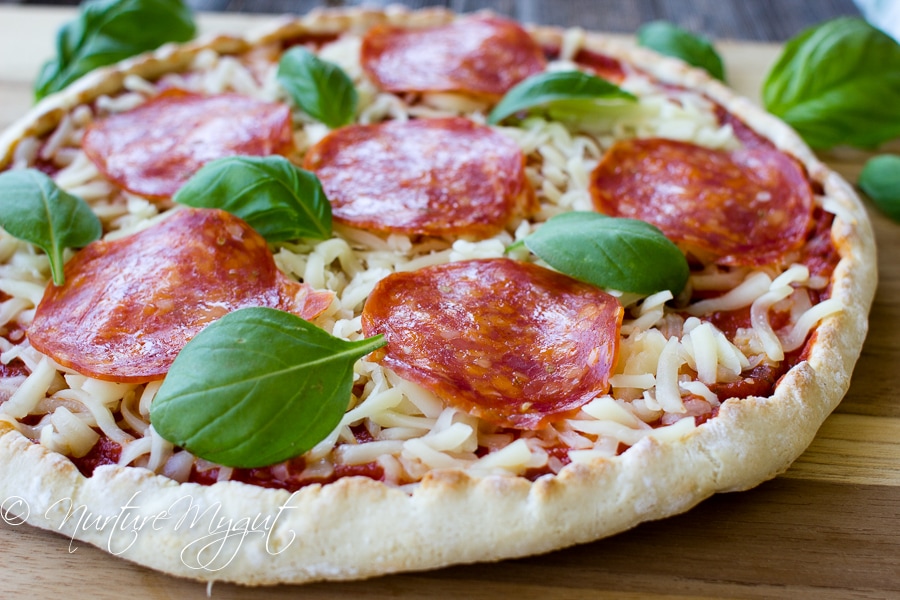 I topped this pizza with organic mozzarella, uncured pepperoni and fresh basil.  My kids don't have a dairy allergy so this was for them and they loved it!  This is my daughter's favorite pizza recipe!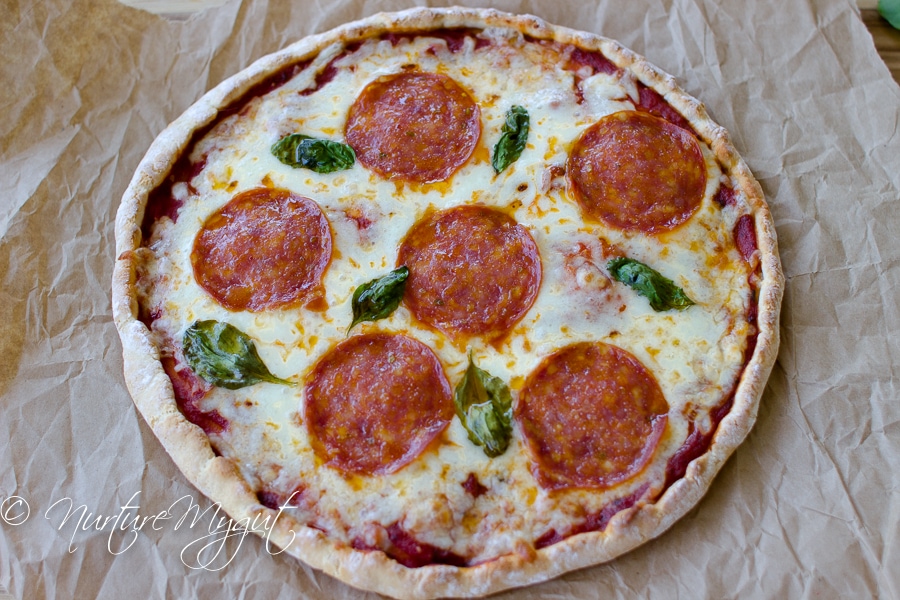 I have an awful allergy to dairy so I prefer to either leave mine without cheese, use Daiya vegan cheese or my favorite, Vromage Artisanal vegan cheese.  Vromage has amazing flavors for vegan cheese.  I love their spicy mozzarella and goat cheese.
If you are in Los Angeles, you must give them a visit and sample their amazing flavors.  They will also ship to you.  It is worth it!  The owner, Youssef Fakhouri is extremely talented!  He makes the vegan cheese out of nuts and seeds, a culture starter and uses organic ingredients.  Vegan cheese can't get any better than that!  If you are using Vromage vegan cheese, just be sure to use it at the end of baking, watch the cheese and let it barely melt.  Don't over-cook it.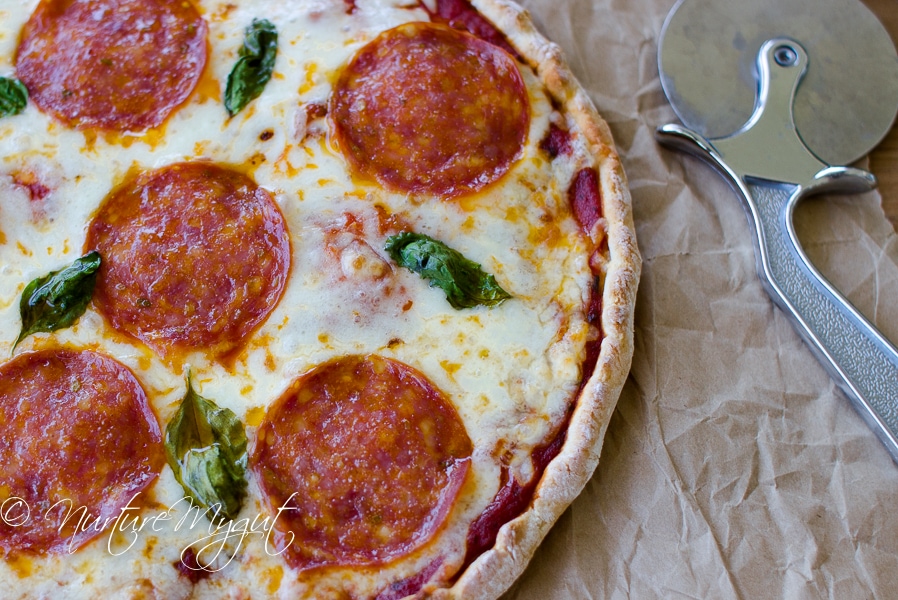 I like to bake my pizza on a pizza stone.  It ensures even cooking and a crispy crust.  I roll out my pizza on parchment paper and slide onto the stone.  I suggest buying two so you can speed up your cooking time.  It is worth it!
In the photo above I had ran out of parchment paper so I used aluminum foil, but I much prefer parchment when I make this recipe.  If you do end up using aluminum, be sure to dust the bottom of your pizza generously so that it does not stick when baking.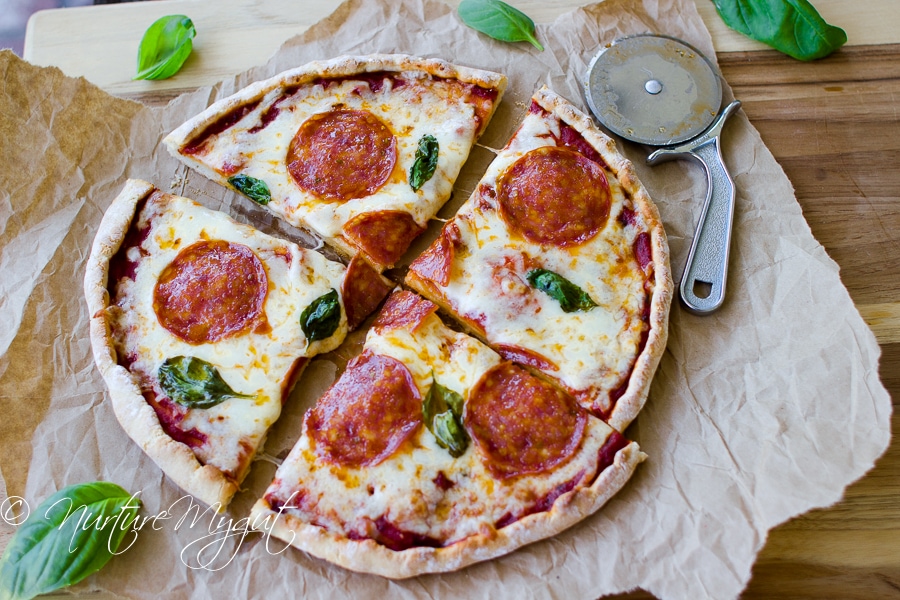 Movie and pizza night on Fridays is always my favorite day of the week.  I get to watch a family movie with my kids, we eat yummy pizza and snuggle up on the couch.
I really enjoy sharing some of my favorite childhood movies with my kids.  Last week we watched Drop Dead Fred and my kids loved it.  It's hilarious!  I used to watch this over and over as a kid.  We had such great laughs watching this together!  What movies are your childhood favorite?  Do you have a movie or game night?  Make this grain free everything pizza recipe and let us know how you like it.  I love hearing from you!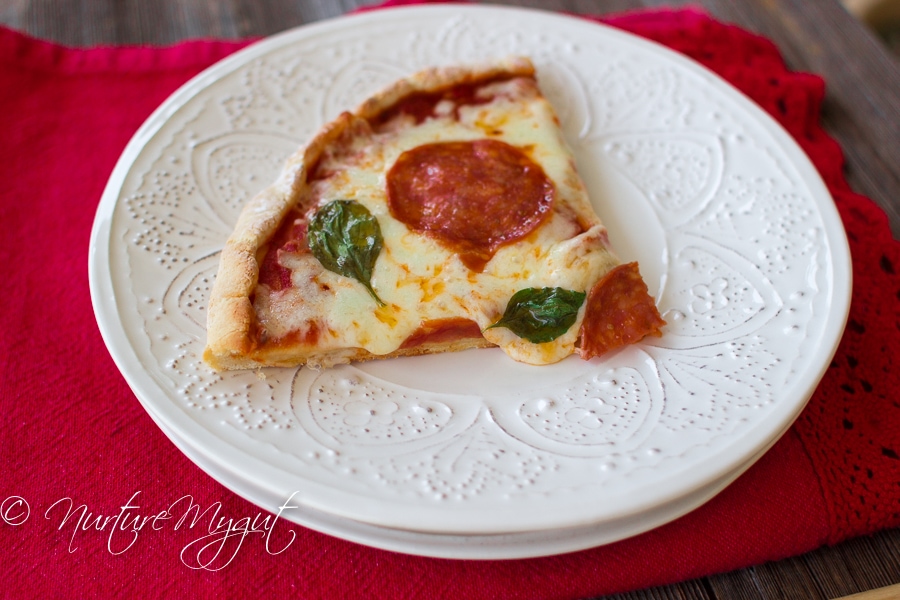 For more delicious healthy gluten free/Paleo-ish meals, please subscribe below.  You will get my free Paleo Breakfast E-Book as my gift to you and new recipes straight to your inbox!
Check out these delicious grain free recipes:
No-Churn Vegan Strawberry Ice Cream
How to Make Grain Free Everything Dough Video Tutorial: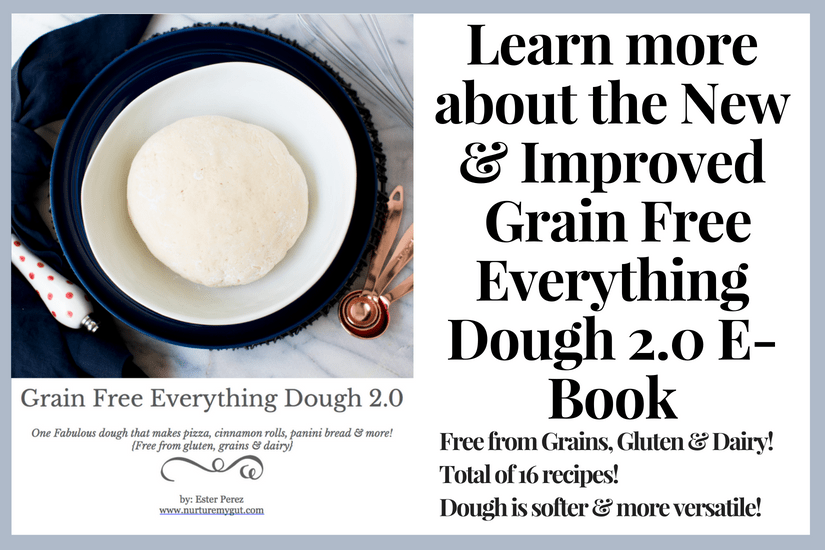 Print
Grain Free Everything Pizza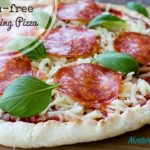 Author:
Prep Time:

35 mins

Cook Time:

18 mins

Total Time:

53 minutes

Yield:

4 servings

Category:

Baked Goods
Ingredients
1 Recipe Grain-Free Everything Dough
tapioca flour for dusting
Pizza sauce
Favorite Pizza Toppings:
Shredded Mozzarella, Daiya Vegan Cheese or Vromage Artisanal Mozzarella vegan cheese
Uncured Pepperoni
Fresh basil
Instructions
Make 1 Recipe of Grain Free Everything Dough, place in bowl, cover with a towel and allow it to rest for 10 minutes.
Preheat oven to 400 degrees. If using a pizza stone, place in oven.
Divide dough in half. Place parchment paper on a flat surface and dust with tapioca flour. Get half of dough and dust with tapioca flour. Roll into a ball, flatten into a disk and roll into a 12 inch circle. Fold edges in about an inch. Repeat this step with the other ball of dough.
Place parchment paper on a baking sheet or slide onto a pizza stone and bake for 10 minutes.
Remove from oven and place a thin layer of marinara on each pizza, top with your favorite cheese, I use Vromage or leave mine without cheese. (If using Vromage cheese, just let is barely melt) Top with pepperoni and basil. Add any other toppings you would like.
Place pizzas back in oven for another 8 minutes. Do not over-cook. Remove from oven, allow to cool 2-3 minutes, slice with a pizza cutter and serve hot.

I'm a loving wife, mother of two healthy children, andI am obsessed with teaching people how to make delicious and mouth-watering gluten-free/Paleo friendly foods that nurture your gut!
Latest posts by Ester Perez (see all)