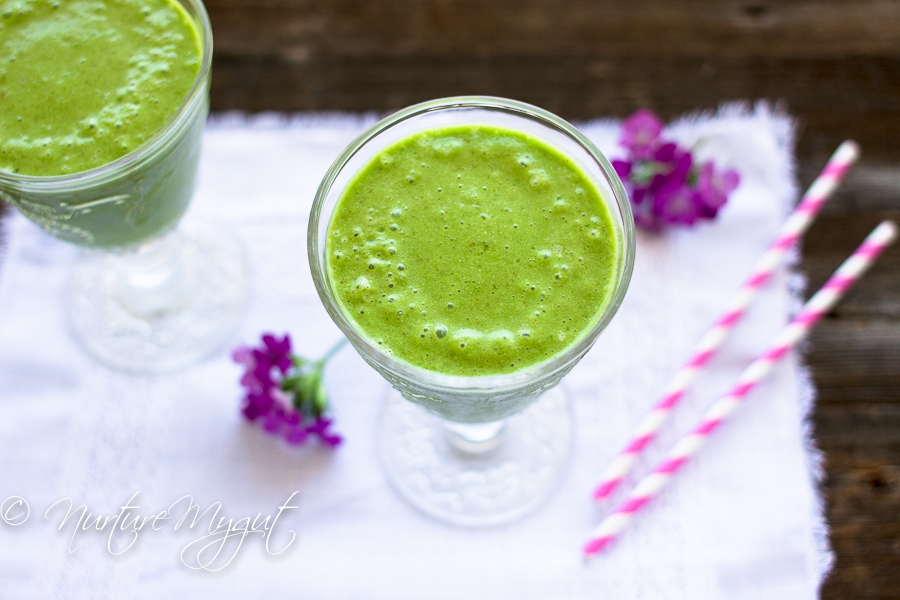 This Restorative Banana Ginger Green Smoothie is the perfect post work-out pick me up. It is made with banana, fresh ginger, cashews, spinach, dates and ice. It is the best tasting green smoothie recipe!
(This post contains affiliate links for your convenience. Click here to view my full Disclosure Policy.)
I am so excited to share this green smoothie recipe with you!  I started up Bikram Yoga again at my local studio that I have gone on and off for 10 years.  The owner is an amazing woman who fully recovered from major back surgery with the help of yoga.  What I love about this yoga is that this is the only place that I get a really good sweat.  (I have a really hard time sweating).  Plus,  I get a really good stretch, build muscle and detox. I also eat healthier, drink tons of water and feel lighter.  Plus, this is the only yoga I can bring my daughter to; we hold hands when lying down in yoga and its melts my heart.  I started bringing her when she was four years old!  Time flies too fast being a Mom!
My latest craving after doing hot yoga is a green smoothie.  After hot yoga, that is all I want!  So after yoga, I go to my local smoothie shop.  They make this AMAZING green smoothie called "Happy Green Smoothie".  It is SO GOOD!  You can't even taste the greens!  All you taste are banana, a hint of ginger and dates.  I love it!  I wanted to re-create this for you guys and here it is.  This Restorative Banana Ginger Green Smoothie tastes identical to the one I get even though the ingredients are slightly different.  I am really happy that I can create this at home because to be honest, I have been craving this almost daily and now I can have this at home too, and so can you!  This was what I had for dinner last night!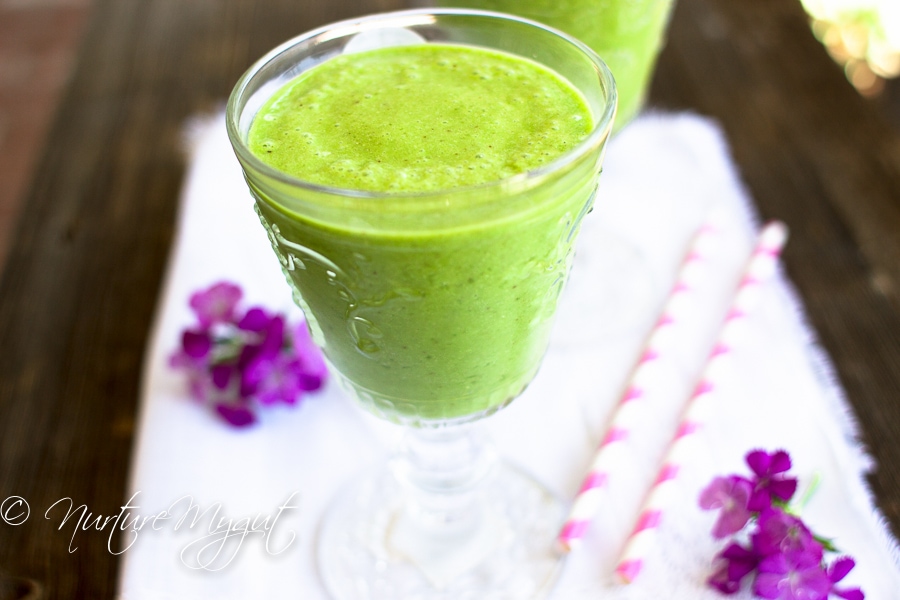 This Restorative Banana Ginger Green Smoothie can be made in 5 minutes or less and contains fresh and healthy ingredients.  It is made with banana, spinach, fresh ginger root, dates, cashews, water and ice.  I use my Vita-Mix Blender which I absolutely love, but any blender will work!  These are simple accessible ingredients you can purchase at your local grocery store.
After a work-out, its great to have something that has potassium, protein and detoxifying ingredients.  You get all of that in this green smoothie.  It is no wonder that I crave this after an intense work-out!
Let us know how you like this Restorative Green Smoothie in the comments below and feel free to use this recipe as a foundation to make your own favorite blend.
Want to learn how to Detox through healing foods?  I highly recommend the Ginger Newtrition Detox that is an 18 day detox full of healthy recipes and elixirs to get your body back into shape and make you feel healthier and energized!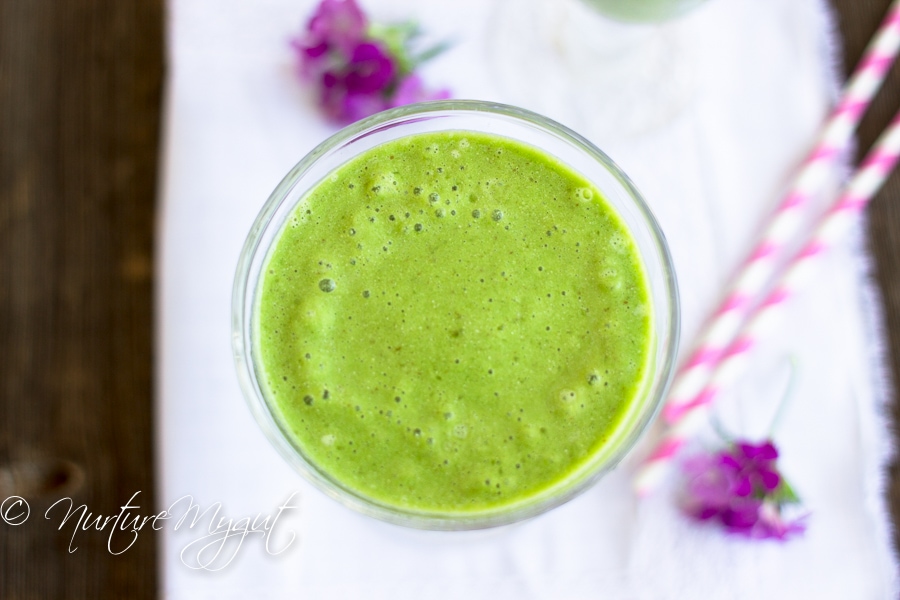 For more delicious healthy gluten free/Paleo-ish meals, please subscribe below.  You will get my free Paleo Breakfast E-Book as my gift to you and new recipes straight to your inbox!
For more healthy breakfast recipes, check out:
Print
Restorative Banana Ginger Green Smoothie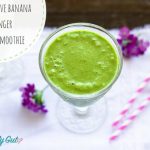 Author:
Prep Time:

5 mins

Total Time:

5 mins

Yield:

2
Ingredients
1 cup water
1/2 cup raw cashews
1 ripe banana (with black speckles)
2 large handfuls baby spinach
1 inch fresh ginger root
4 large Medjool dates, pitted
12 ice cubes
Instructions
Add all ingredients to a blender in order listed and blend on high until smooth and creamy. Pour into 2 large glasses or mason jars and enjoy!

I'm a loving wife, mother of two healthy children, andI am obsessed with teaching people how to make delicious and mouth-watering gluten-free/Paleo friendly foods that nurture your gut!
Latest posts by Ester Perez (see all)