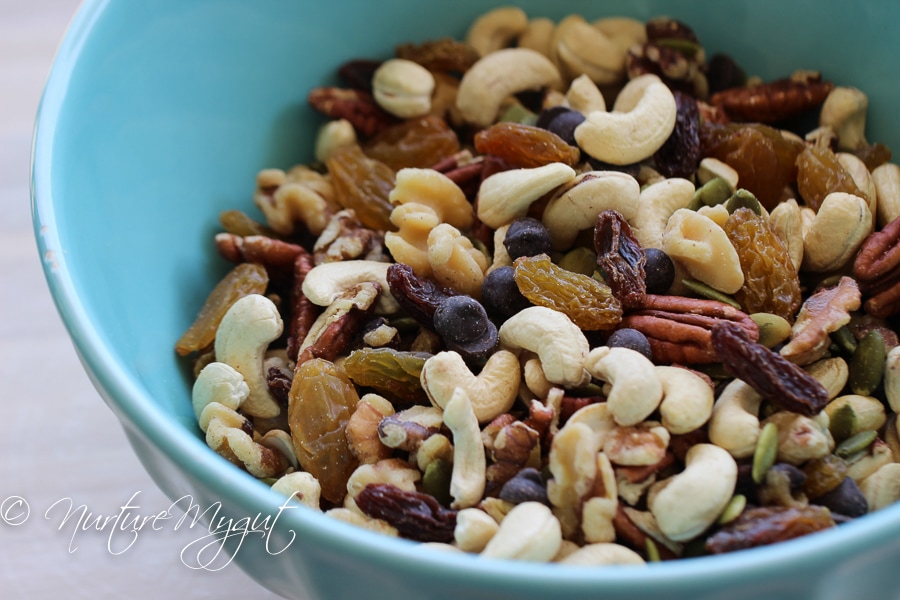 This Ultimate Paleo Trail Mix is full of healthy deliciousness!  It is ready in only 5 minutes prep time and has the perfect blend of crunchy, salty and sweet flavors a traditional trail mix delivers.
This trail mix has a good balance of fats, proteins, sugars and salts.  Which is just what you need when you are active or are in need of a healthy snack between meals.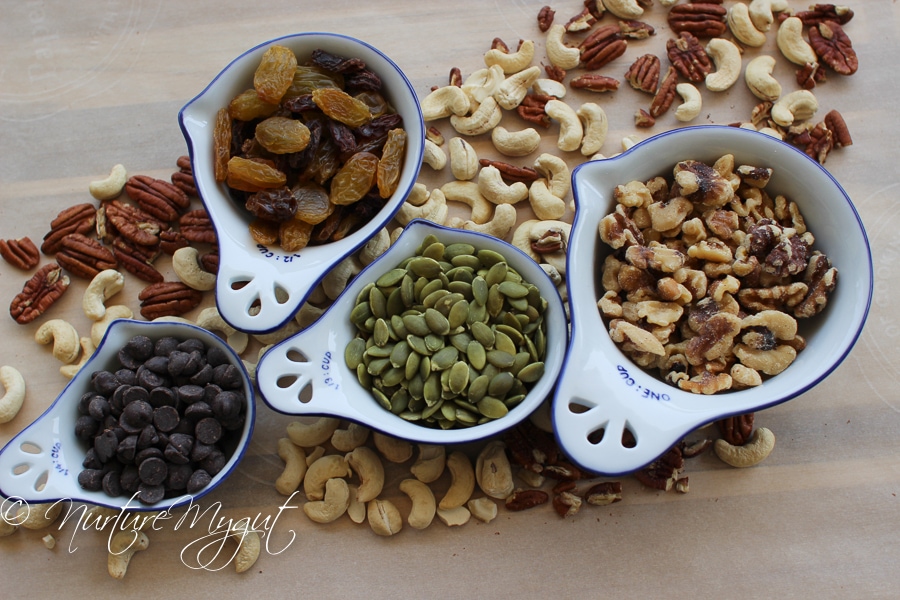 (This post contains affiliate links for your convenience. Click here to view my full Disclosure Policy.)
How To Make the Ultimate Paleo Trail Mix:
You Will Need:
A paleo trail mix should be balanced with nuts, seeds, dried fruit and a little something special like dark chocolate chips or cacao nibs and a pinch of salt to balance out the flavor.
This recipe is super easy.  All you do is add all ingredients to a large mixing bowl and stir with a spatula or your hands.  Then pour into a sealed container and store in your cupboard if you will use up within a month or fridge for longer storage.
Feel free to add a blend of your favorite nuts or simply use what you have available in your cupboard.  You can swap out cashews for macadamia nuts, cranberries for the raisins and cacao nibs for the dark chocolate chips.  The possibilities are endless.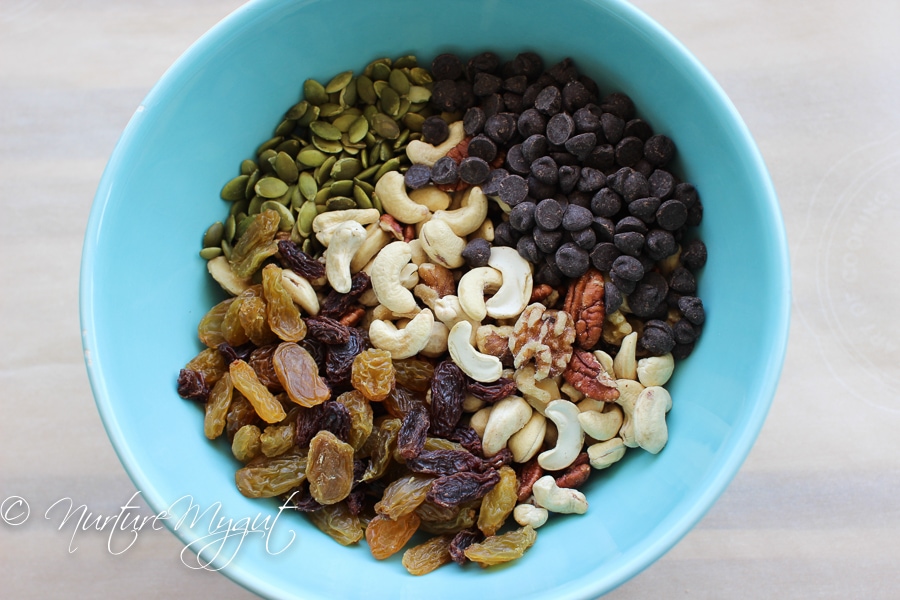 My daughter and husband are big fans of snacking and are my inspiration behind this Paleo Trial Mix.  I do find her picking out the dark chocolate chips first which is what I expect from a child her age!  We will be packing this in her lunch box and I be will packing myself a mini snack ziplock bag of this Paleo Trail Mix in my purse.  I have not found a trail mix that has dairy free dark chocolate chips so I thought this would be a special addition for anyone who is vegan or dairy free.  I am using dairy free dark chocolate chips.  They have been my go-to dairy free chocolate chips for the last few years.  They have a rich, delicious flavor and it is hard to tell they are actually dairy free.  You will find they are the perfect addition to this Paleo Trail Mix!
Looking for a great guide for going Paleo with delicious healthy quick recipes, I highly recommend my friend Louise's book, The Essential Paleo Cookbook.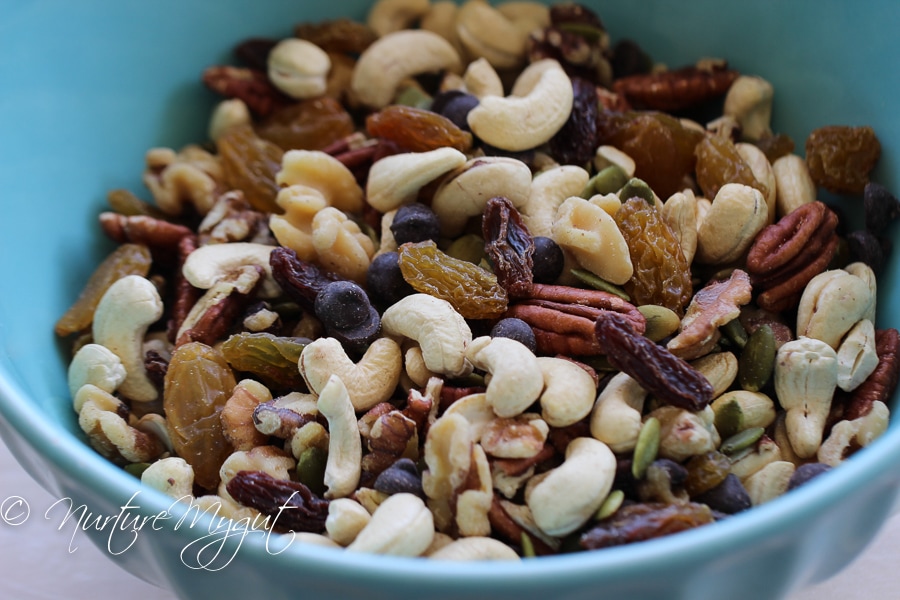 For more delicious healthy gluten free/Paleo-ish meals, please subscribe below.  You will get my free Paleo Breakfast E-Book as my gift to you and new recipes straight to your inbox!
For more delicious gluten free/Paleo-ish recipes, check out:
Gluten Free Waffle Cones (Paleo)
Print
Ultimate Paleo Trail Mix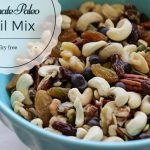 Author:
Prep Time:

5 mins

Total Time:

5 mins

Yield:

1 quart

Category:

snack
Ingredients
1 cup raw cashews
1 cup raw walnuts
1/3 cup raw pecans
1/3 cup raw pumpin seeds
1/2 cup raisins
1/4 cup dairy free chocolate chips (I use Enjoy Life)
1/4 teaspoon salt
Instructions
Mix all ingredients in a bowl and toss together. Pour into a sealed container and store at room temperature until ready to use.

I'm a loving wife, mother of two healthy children, andI am obsessed with teaching people how to make delicious and mouth-watering gluten-free/Paleo friendly foods that nurture your gut!
Latest posts by Ester Perez (see all)