These Green Chicken and Chorizo Enchiladas with Dairy Free Crema are the best enchiladas in the world!  Well, they are to me and any one I know who has had them!  They are tangy, spicy, sweet and oh so good!  Better yet, these MUST be made when having guests over because they are absolutely over the top amazing and not only do they look delectable, but the flavors are to die for!
They are gluten free, dairy free and can be made grain free with my Paleo Tortillas 2.0.  Trust me, these Green Chicken and Chorizo Enchiladas with Dairy Free Cream are unforgettable!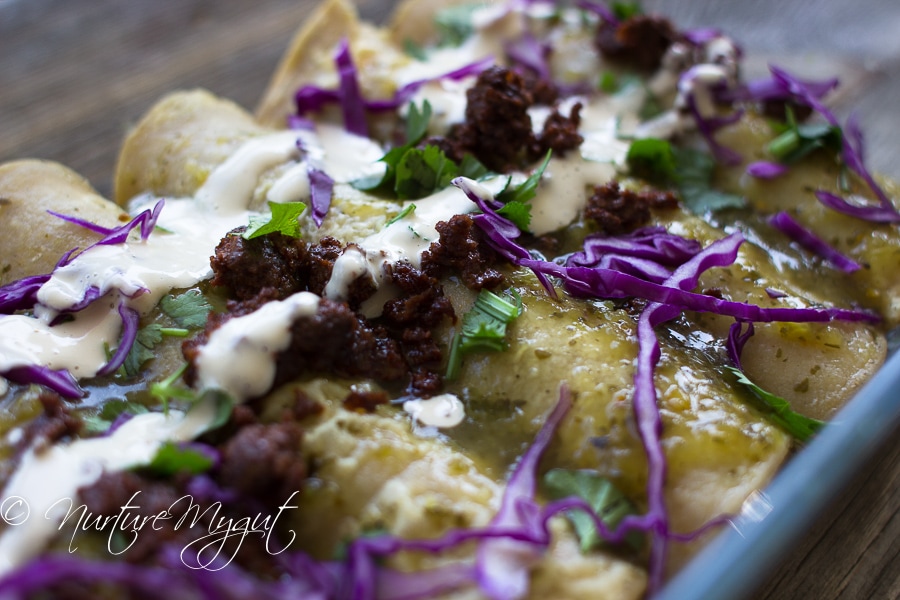 If you are wondering how I came about this recipe, I learned to make them when I was only 12 years old.  My best friend's Mom, Mrs. Olmos made these for us and I could not believe how delicious they were!  Well, I had never eaten anything that good ever!  I begged her to teach me and ever since then, I have made these delicious Green Chicken and Chorizo Enchiladas for family, friends and celebratory events. For birthday parties, I make them casserole style and cut them into squares, you should hear the "Ooos and Ahhs" when guests are eating them!
FYI, Mrs. Olmos's original recipe uses "Crema Mexicana Cacique" but ever since I developed a dairy allergy (4 years ago), I use Dairy Free Crema, made with a base of coconut water and cashews (see recipe below).  I also added the addition of purple cabbage and cilantro to make it just a bit healthier and add a touch of color.  Wherever you are, "Thank You Mrs. Olmos for teaching me to make these! After 20 years, these are still the best enchiladas I have ever eaten!"
Now, let's talk about how to make these efficiently.  When I have time, I make the tomatillo salsa from scratch and boil the chicken, when I don't have time, I use bottled green enchilada sauce and a rotisserie chicken as shown in this recipe.  To make these efficiently (meaning bottled sauce/rotisserie chicken), I had 6 enchiladas done in 30 minutes, not bad for a meal with a "WOW FACTOR".  Let's go step by step making these Green Chicken and Chorizo Enchiladas with Dairy Free Crema.
(This post contains affiliate links for your convenience. Click here to view my full Disclosure Policy.)
How to Make amazing Green Chicken and Chorizo Enchiladas with Dairy Free Crema:
Step 1, heat a skillet to medium heat.  This is a good time to use your cast iron griddle (my best frying pan) if you have one.  Drizzle some light flavored oil, I like avocado oil but a light olive oil works too.  Fry your tortilla lightly on both sides in oil because you don't want it over crispy or it will be hard to fold.  Just enough to heat it through but slightly crispy.  Use tongs to flip it so the oil won't splash when turning.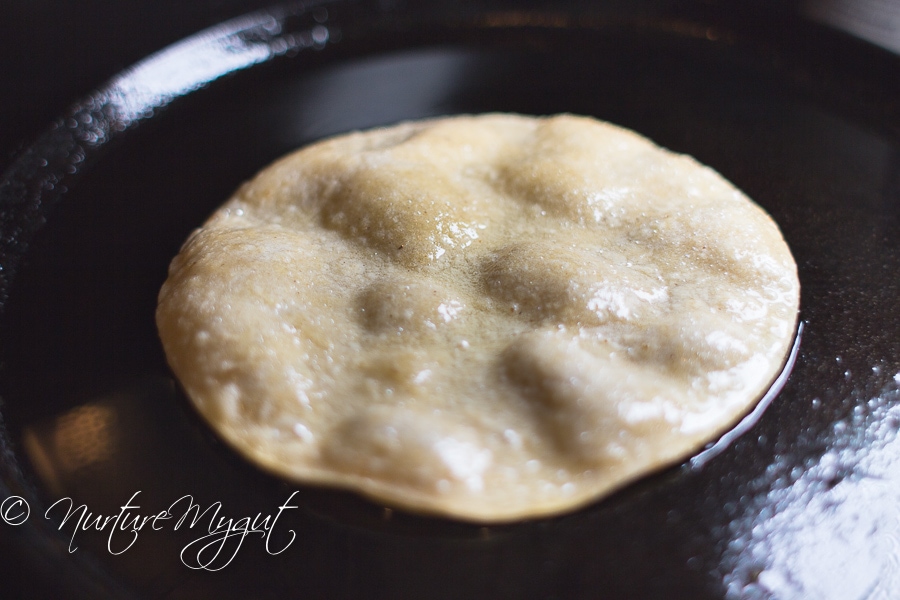 Step 2, put your fried tortilla into the warmed up green enchilada sauce.  Turn over so both sides have sauce.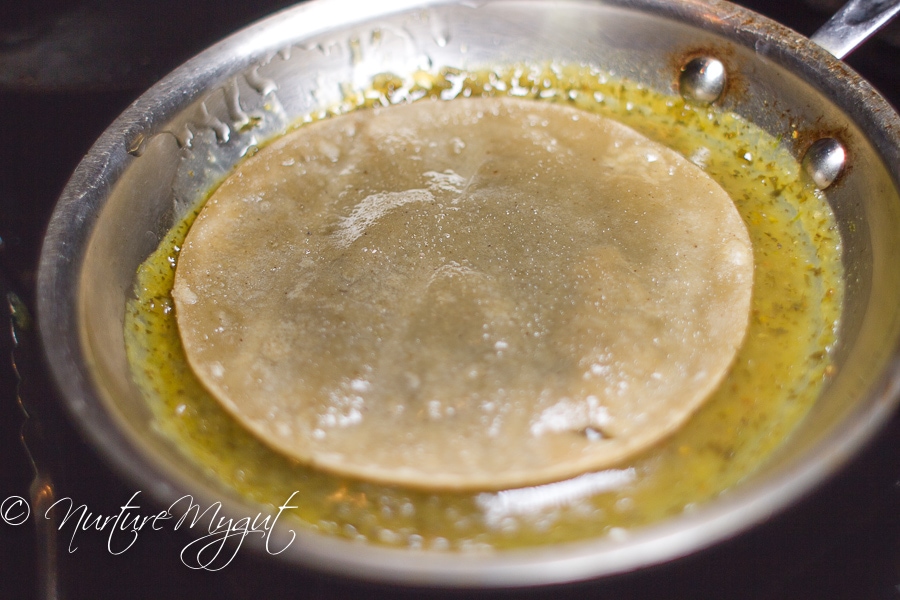 Step 3, place your tortilla onto your baking/serving dish and top with chorizo and shredded chicken.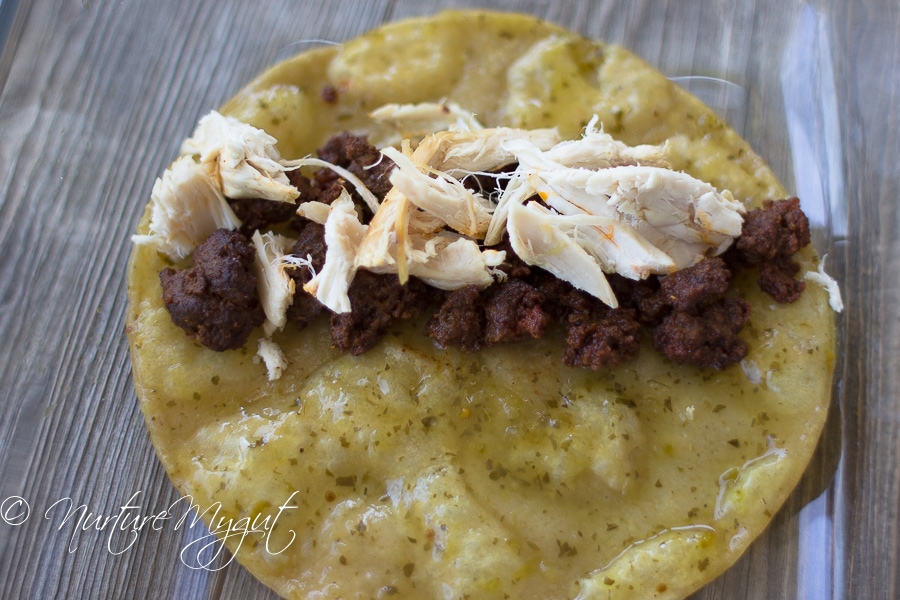 Step 4, turn over enchilada so folded ends are on the bottom.  This will keep your enchilada closed and contents warm.  Repeat with remaining tortillas.  If your enchiladas get cold, just heat them up for a few minutes in a 350 degree oven.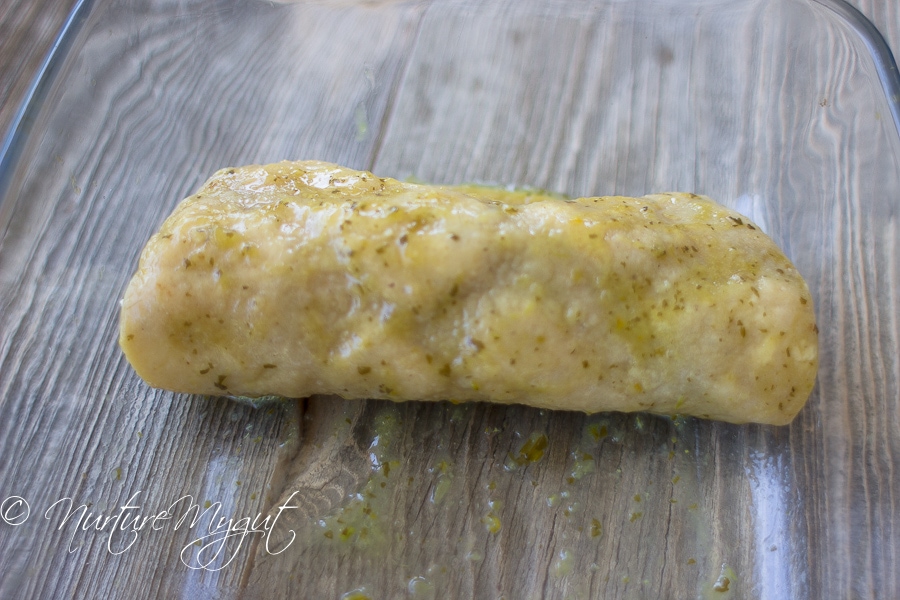 Step five, top with more sauce, chorizo, thinly shredded purple cabbage and cilantro.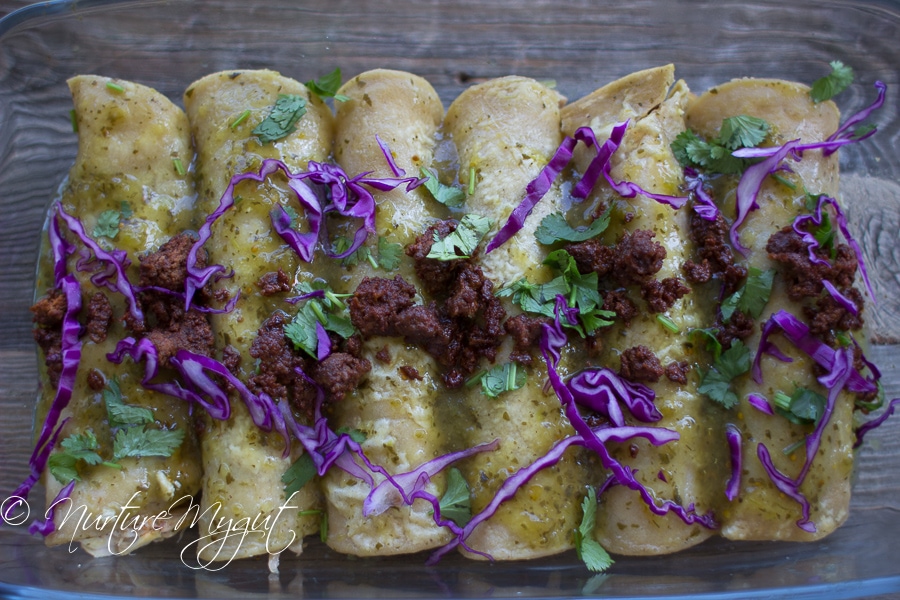 Step six, for the final touch, drizzle with Dairy Free Crema and serve warm.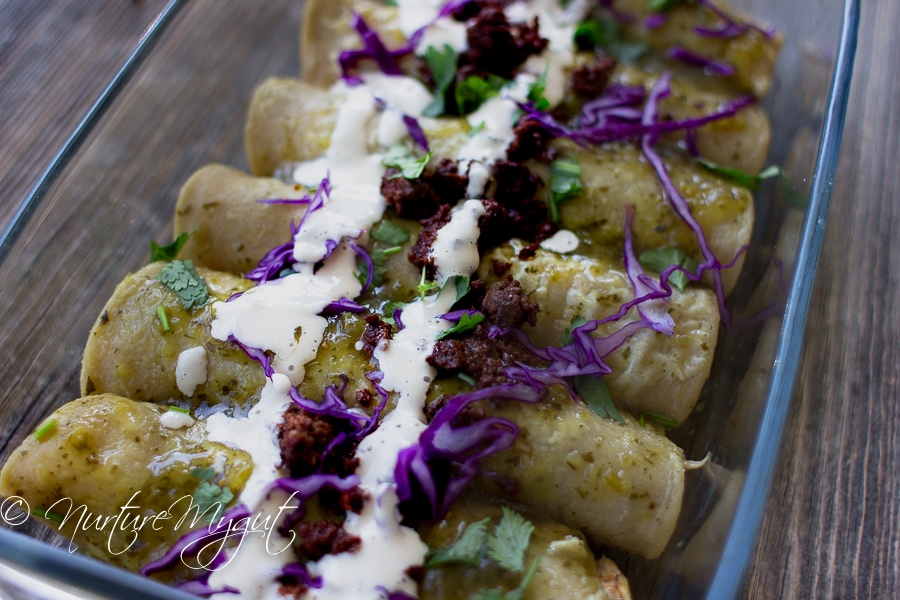 When Mrs. Olmos would make these, we sat at the kitchen table and she served these as soon as they were made.  They came out piping hot!  Wow, we were lucky ducks!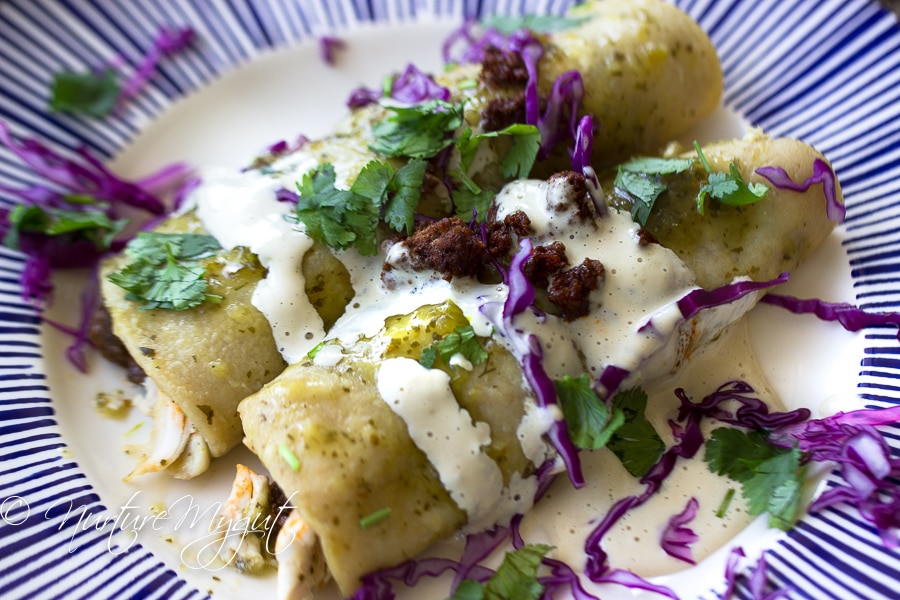 Consequently, when you make these tangy, spicy and sweet Green Chicken and Chorizo Enchiladas with Dairy Free Crema, please know, it will not be the last.  I am almost certain, this will be the unforgettable meal your family and friends will be requesting you to make time after time!  They will bring joy to your heart and happiness to your taste buds!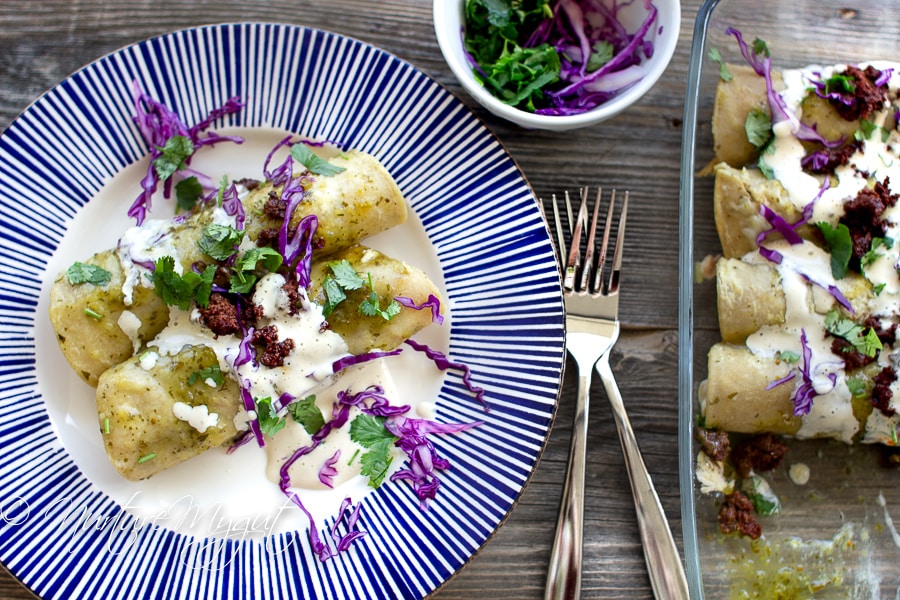 For more deliciously healthy gluten free recipes, please subscribe below.  You will get my free Breakfast Paleo E-book as my gift to you!
Print
Green Chicken and Chorizo Enchiladas with Dairy Free Crema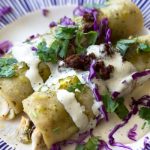 Author:
Prep Time:

20 mins

Cook Time:

25 mins

Total Time:

45 minutes

Yield:

4-6
Ingredients
1 lb beef or pork chorizo
1 small rotisserie chicken or 2 cooked chicken breasts boiled in salted water
2-twelve ounce cans green enchilada sauce
1 dozen non GMO corn tortillas or Paleo Tortillas 2.0
light flavored oil such as avocado or light olive oil
1 recipe Dairy Free Crema
optional toppings: chopped cilantro, shredded purple cabbage
Instructions
Heat a saute pan to medium heat, add chorizo and cook through, stirring occasionally. If using beef chorizo, break up into small pieces. Cooking time is about 7-10 minutes. Set aside.
While chorizo is cooking, make the Dairy Free Crema. If you can have dairy, use "Crema Mexicana" found at local grocery stores.
Shred cooked chicken. Sed aside next to cooked chorizo.
Warm up green enchilada sauce in a small pan.
Heat up a skillet with enough oil to fry a tortilla, about 1-2 Tablespoons.
Get your tray ready where you will layer tortillas, I use a baking tray. Make sure items are close by and accessible for preparing enchiladas.
After frying your tortilla lightly on each side using tongs (don't over cook or they will get hard and you can't fold them), place it into the warm green enchilada sauce.
Next, add chorizo and chicken, see photo above. Fold the sides over and place with folded side down. Repeat with remaining tortillas.
Once all enchiladas are made. Top with remaining green sauce, chorizo, dairy free crema, cilantro, and shredded purple cabbage. If enchiladas get cold, place in preheated 350 degree oven for a few minutes before adding toppings.
Notes
Nutritional data below includes 2 Tablespoons Dairy Free Crema per serving.
Print
Dairy Free Crema for Green Chicken & Chorizo Enchiladas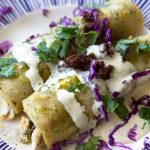 Author:
Prep Time:

5 mins

Total Time:

5 mins
Ingredients
1 cup young Thai coconut water (unpasteurized)
1 small garlic clove, peeled
1 1/2 cups raw cashews (If you don't have a high speed blender, quick soak cashews in hot water 20 mins & rinse)
Juice of 1 lemon
1 teaspoon salt
Instructions
Add all ingredients to a high speed blender or food processor until smooth and creamy.

I'm a loving wife, mother of two healthy children, andI am obsessed with teaching people how to make delicious and mouth-watering gluten-free/Paleo friendly foods that nurture your gut!
Latest posts by Ester Perez (see all)