Paleo Gingerbread "Blender" Pancakes with Cranberry Sauce
It is a special time of year when we celebrate the holidays.  The streets are covered with sparkling lights, the houses have Christmas trees peeking out windows and it is a great excuse to fill our bellies with treats!  Oh how I love Christmas time!  I am pretty sad that our Christmas tree will be coming down this month!  Let's keep the holiday season alive with one more delicious Christmas Recipe!  I have for you Paleo Gingerbread "Blender" Pancakes made with Homemade Cranberry Sauce.  These are gluten free, paleo and dairy free.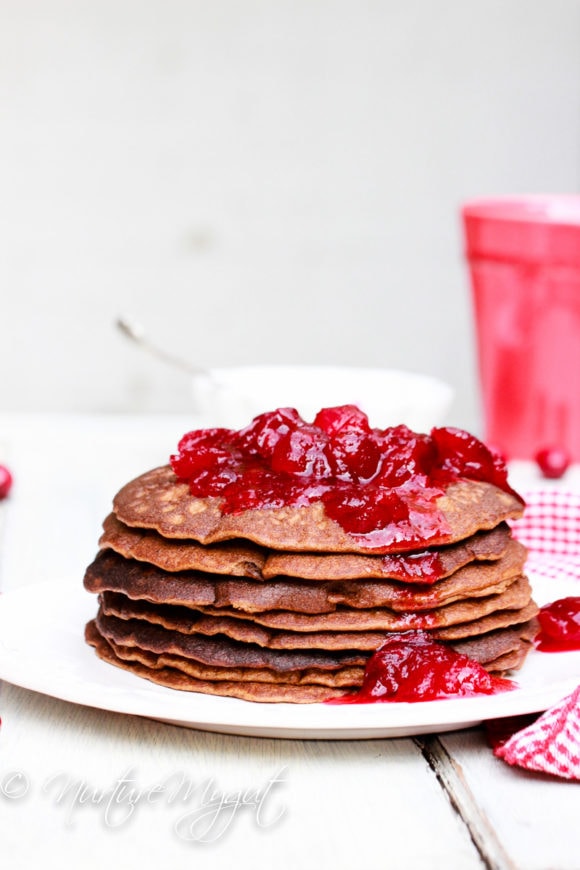 The batter is super easy to make!  Just throw the ingredients into the blender and let it do most of the work!  Plus, the cranberry sauce practically makes itself.  Just add cranberries, maple syrup and water to a saucepan and let it simmer.  Yup…easy!  I suggest you put the cranberries sauce to simmer first and it will be ready before your pancakes!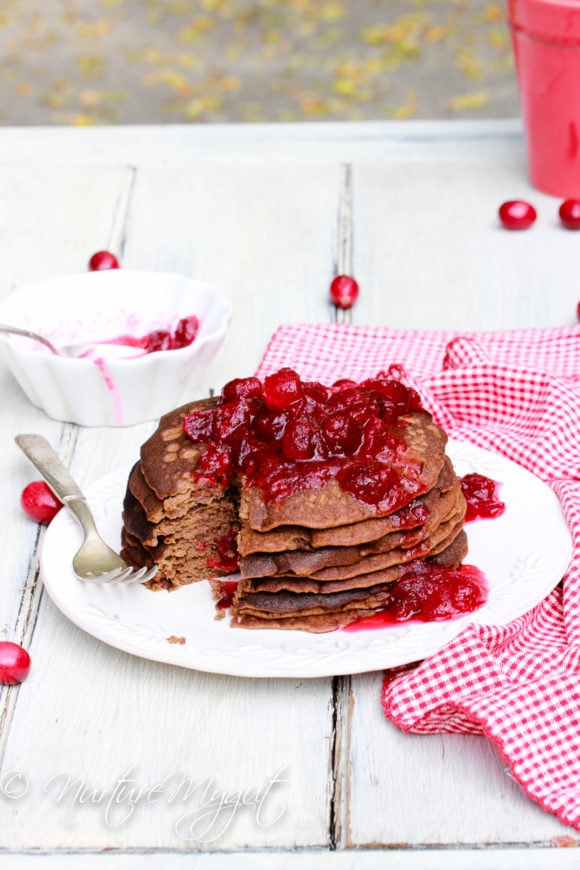 Covering your pancakes with a lid while cooking will make it a whole lot easier to flip.  It helps the top steam through so your pancakes do not splatter.  Trust me on this!  It really works!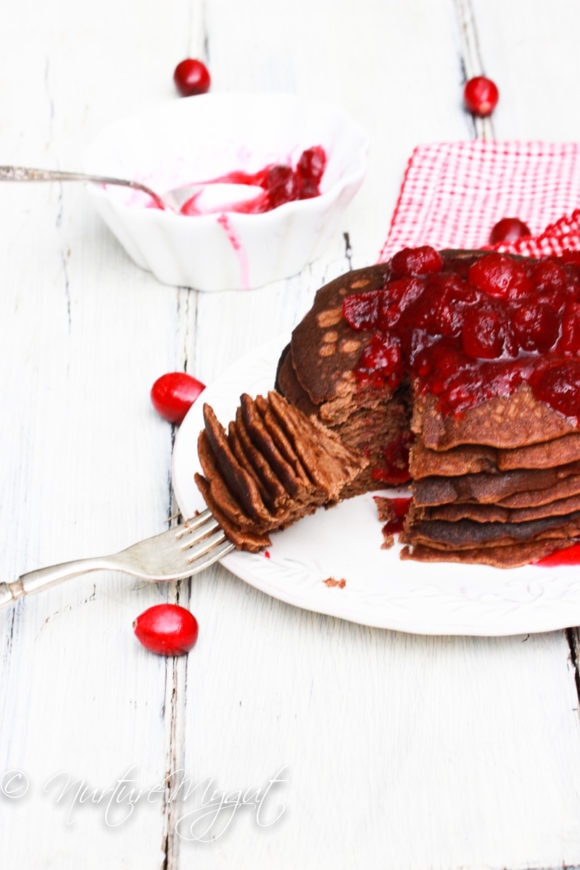 Thank you for being a part of the NurtureMyGut Community!  Your comments and connection are an enormous contribution to my life and keep me motivated to share delicious gluten free recipes and be a stand for health and transformation!  Thank you and God Bless you!  Have a Happy New Year and may all your wishes come true!
For more delicious healthy gluten free/Paleo-ish meals, please subscribe below.  You will get my free Paleo Breakfast E-Book as my gift to you and new recipes straight to your inbox!
For more delicious recipes check out:
Gluten Free Chocolate Chip Pancakes
Restorative Banana Ginger Green Smoothie
Print
Paleo Gingerbread Blender Pancakes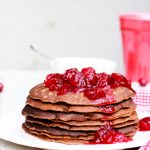 Author:
Prep Time:

5 mins

Cook Time:

20 mins

Total Time:

25 minutes

Yield:

4 servings

Category:

Breakfast
Ingredients
5 large eggs
1 cup almond milk
1 ripe banana
1 Tablespoon molasses
1 teaspoon vanilla
1 teaspoon apple cider vinegar
1/4 cup coconut flour
2 teaspoons ground cinnamon
1/4 teaspoon cloves
1 teaspoon baking soda
1/4 tsp coconut oil for pan
Instructions
Add all ingredients to the blender except the coconut oil. Blend until smooth, about 30 seconds.
Heat a medium skillet to low heat and add coconut oil.
Pour batter into skillet, 1/4 cup at a time. Cover skillet with a glass lid and heat until you see bubbles on the top. Gently flip over and heat until pancake is cooked through.
Repeat with remaining batter.
Notes
Nutritional data below includes 2 tablespoons of cranberry sauce per serving.
Print
Cranberry Sauce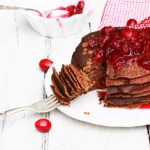 Author:
Prep Time:

3 mins

Cook Time:

15 mins

Total Time:

18 minutes

Category:

Breakfast
Ingredients
2 cups fresh/frozen cranberries
2/3 cup agave or maple syrup
1/2 cup water
Instructions
Add all ingredients to a small saucepan and bring to a simmer. Lightly simmer until mixture has thickened. About 10 minutes.
With a fork, mash 1/2 of the cranberries. Simmer another 5 minutes.
Serve 1-2 tablespoons of cranberry sauce on top of gingerbread pancakes per person.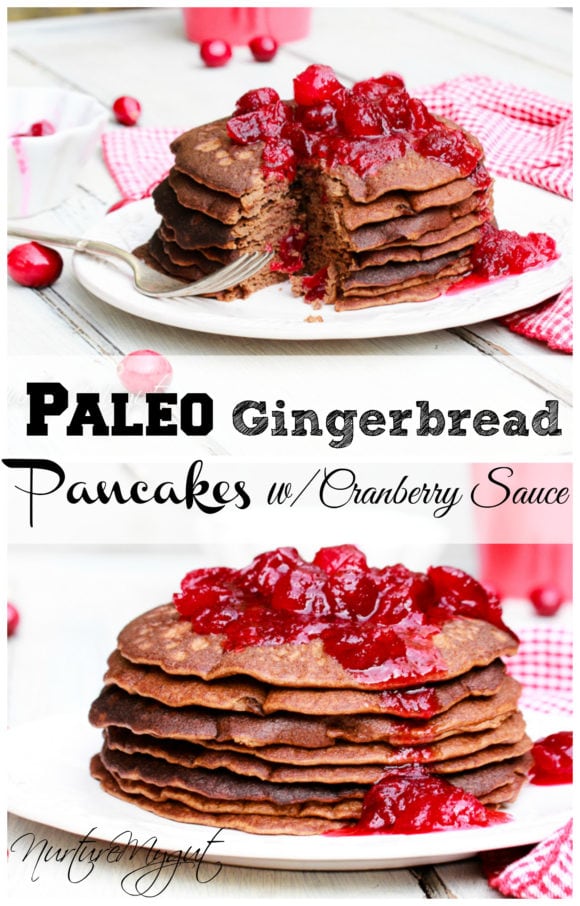 I'm a loving wife, mother of two healthy children, andI am obsessed with teaching people how to make delicious and mouth-watering gluten-free/Paleo friendly foods that nurture your gut!
Latest posts by Ester Perez (see all)