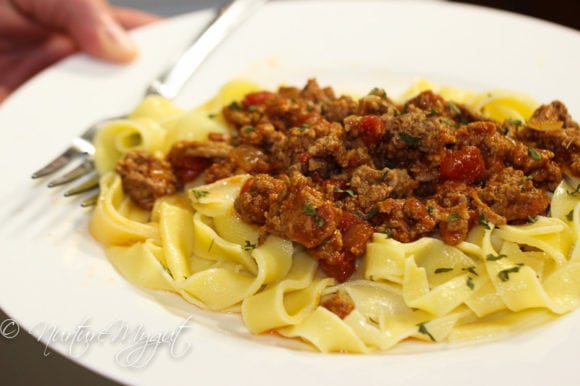 I went to my brother Abe's house over the holiday's and we made with delicious meat sauce with my gluten free paleo pasta!  We had lot's of fun making this recipe and more fun eating it!  We have a Youtube video tutorial called "Paleo Pasta Recipe" that will show you how easy it is to make homemade gluten free paleo friendly pasta!  Yes, his kitchen is always that clean and he has impeccable taste in decor!!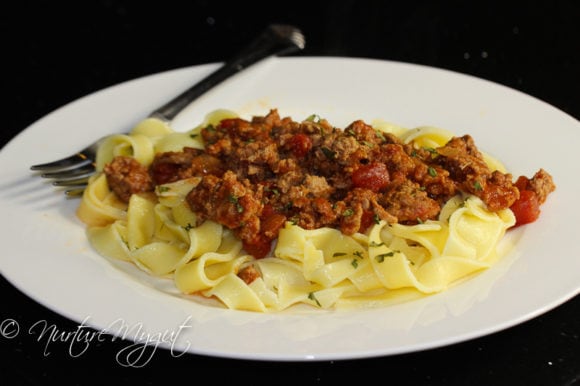 My husband showed me how to make meat sauce and marinara from scratch so I owe this recipe to him!  He was a chef for 5 years.  You will never go back to jarred marinara or meat sauce after you try this!  It is full of flavor and has just the right amount of heat!
Be sure to make it with homemade gluten free pasta!   See tutorial below!

It really is worth it.  You will have both recipes done in about an hour.  My daughter and I made this for a special Sunday family dinner and it really is a treat for us!  Not only is it fun to make with your kids, but it is oh! so good!  When there is silence at the dinner table you know it was worth it!!!
Looking for a great guide for going Paleo with delicious healthy quick recipes, I highly recommend my friend Louise's book, The Essential Paleo Cookbook.
For more delicious healthy gluten free/Paleo-ish meals, please subscribe below.  You will get my free Paleo Breakfast E-Book as my gift to you and new recipes straight to your inbox!
For more yummy Paleo Recipes check out:
Paleo Reginette Pasta w/Kale & Mushrooms
Best Paleo Chocolate Chip Cookies
Best Gluten Free Waffles (Paleo)
Bon Appetit!
Print