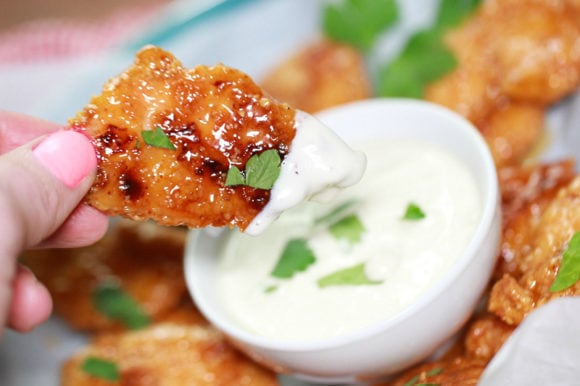 Have you been missing finger foods from Restaurants?  I have!  I used to love eating appetizers such as these Sweet & Spicy Gluten Free Chicken Fingers.  Options seem to get smaller and smaller for appetizers when eating out.  Not being able to eat gluten or dairy significantly limits choices at restaurants, don't you agree?  These yummy chicken fingers are guaranteed to blast your taste buds with flavors from the past, but without the tummy aches.  Best of all, they are PALEO!  Let me show you how easy it is to make these.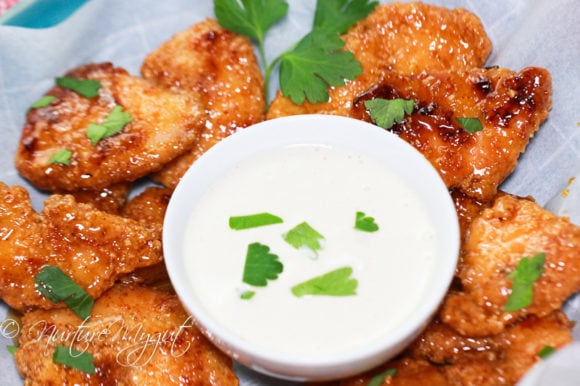 First, you will need to make a batch of my Gluten Free Chicken Tenders.  Next, you will heat up some honey, Tabasco and minced garlic for 10 minutes on a low simmer.  Last, you will toss in your delicious sweet and spicy honey mixture over your chicken fingers…and there you have it!  A flavorful batch of crispy, sweet and spicy gluten free chicken fingers!  Oh…yum!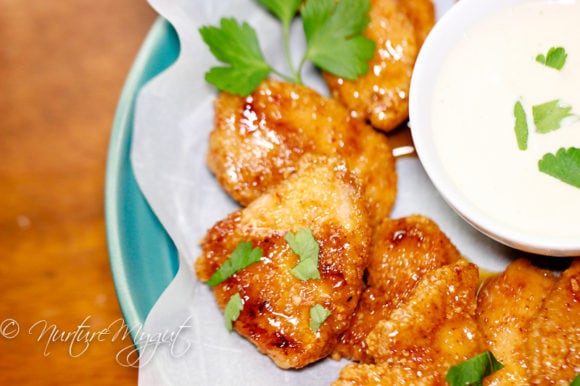 I highly suggest you make my Dairy Free Sour Cream to go with this recipe if you are allergic or sensitive to dairy.  It is a perfect combination.  The cool and creamy sour cream helps tone down the heat from these Sweet & Spicy Gluten Free Chicken Fingers.  You know these are the perfect Super Bowl appetizer! Please share in the comments below after you make these!  I know they will be a hit!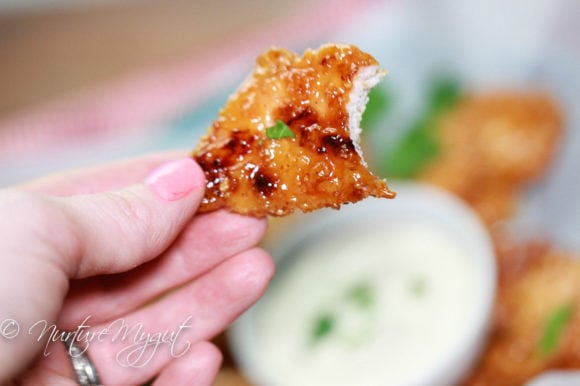 For more delicious healthy gluten free/Paleo-ish meals, please subscribe below.  You will get my free Paleo Breakfast E-Book as my gift to you and new recipes straight to your inbox!
Sweet & Spicy Gluten Free Chicken Fingers Recipe:
Print
Sweet and Spicy Gluten Free Chicken Fingers Recipe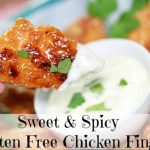 Author:
Prep Time:

10 mins

Cook Time:

25 mins

Total Time:

35 minutes

Yield:

4-6

Category:

Appetizer
Ingredients
1 Recipe of Gluten Free Chicken Tenders
1/2 cup honey
2 Tablespoons Tabasco Sauce
1 garlic clove, minced
Instructions
In a small saucepan, add honey, Tabasco sauce and garlic. Heat on a low simmer for 10 minutes and remove from heat.
Add gluten free chicken tenders to a large bowl. Pour honey sauce over chicken tenders and toss to coat. Place on a serving dish and serve with dairy free sour cream. Enjoy!
Notes
Nutritional data below includes 2 Tablespoons honey sauce per serving.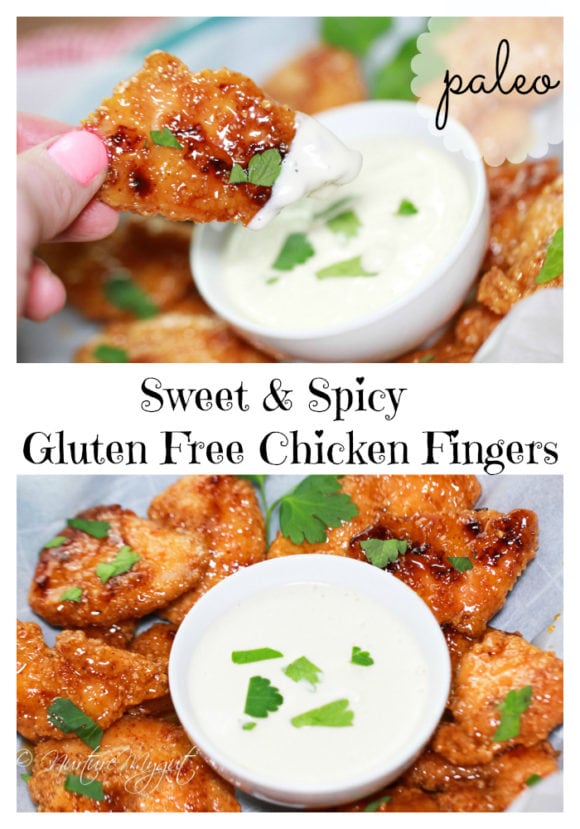 I'm a loving wife, mother of two healthy children, andI am obsessed with teaching people how to make delicious and mouth-watering gluten-free/Paleo friendly foods that nurture your gut!
Latest posts by Ester Perez (see all)