Gorilla Milk is my favorite way to drink green juice.  The name sounds kind of crazy.  The first time I heard of Gorilla Milk was 3 year ago from Lou Corona.  He is a raw vegan Health Coach and lives, breathes and teaches raw vegan food.  I was blessed to have been mentored by him for 45 days to do a raw vegan cleanse.  He is a genuine, kind person and knows his stuff!  Gorilla Milk is one of the nutritional drinks that he told me I had to drink to make sure I was getting enough protein and nutrients while cleansing.  It still is one of my favorites.  I did change it up a bit.  I used what was available in my fridge.  I'm a practical gal!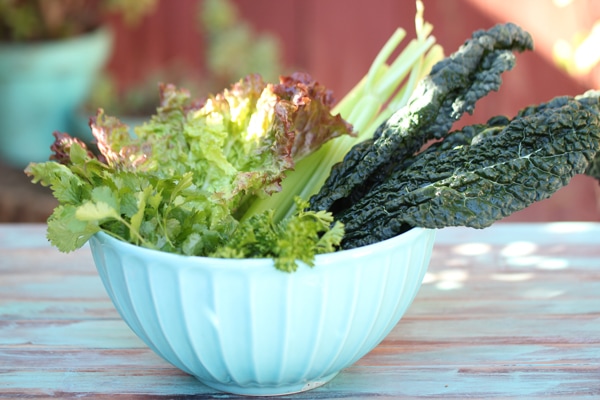 I added dinosaur kale, celery, red leaf lettuce, parsley, and cilantro.  Last week I added arugula, swiss chard, cucumber and lettuce.  I get different greens in my weekly Farm box and since this week, I only got a few greens, I went to the market to get more.  I need my green juice!!!! I need my Gorilla Milk!  I have such poor absorption in my gut that if I don't have my green juice, I feel dehydrated and tired.  It is my lifeline!!!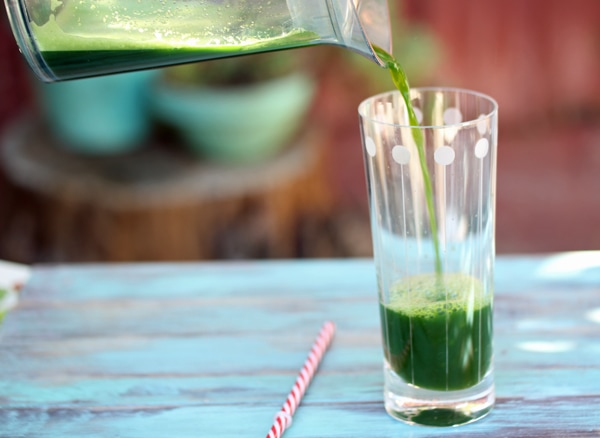 Adding homemade almond milk to green juice helps to absorb the nutrients.  It also adds essential omega 3 fatty acids, protein and calcium.  Gorilla Milk will sustain me for hours longer than just a plain green juice.  Actually, if I had the greens straight without the almond milk, I could only drink a small glass because it would make me nauseated…it is so detoxifying.  But with the almond milk, I can drink a whole quart of green juice without any bad reaction at all and I feel amazing and energized!  Be sure to check out my homemade almond milk tutorial below, its super easy to make!
How to make Homemade Almond Milk Video Tutorial: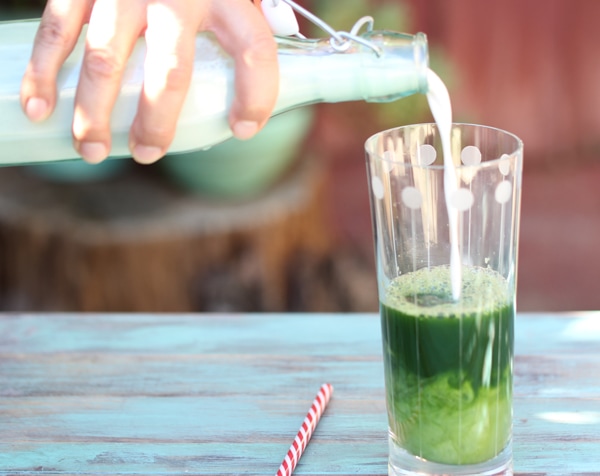 So if you are having a hard time getting your green juice down, make Gorilla Milk.  You can add red apples to your green juice if you want it sweeter.  I prefer mine plain and simple in a nice tall glass with a straw.  (These are the fun re-usable red plastic straws I use.)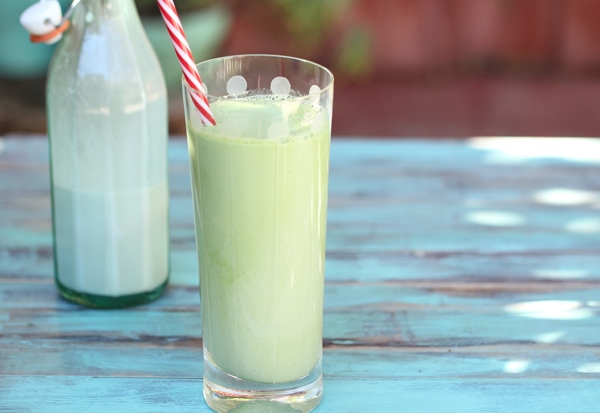 I could drink this whole recipe myself but you see that hand in the background pouring the almond milk… that is my awesome hubby!  I snatched him out of his office to come and pour the almond milk so I can snap a picture.  He got the first honorary glass of Gorilla Milk.  He is also a great taste tester!  He gave this recipe a thumbs up!  If you want your kids to drink green juice, blend in some dates into your Gorilla Milk.  They will LOVE IT!
For more delicious healthy gluten free/Paleo-ish meals, please subscribe below.  You will get my free Paleo Breakfast E-Book as my gift to you and new recipes straight to your inbox! 
Check out these yummy gluten free recipes:
Restorative Banana Ginger Green Smoothie
Best Paleo Chocolate Chip Cookies
Print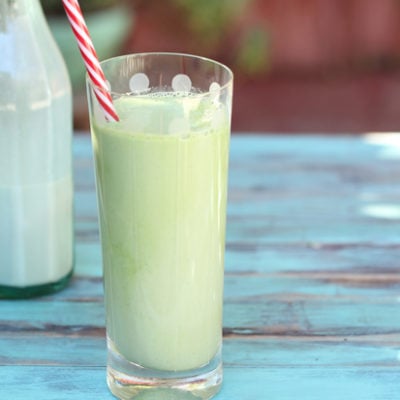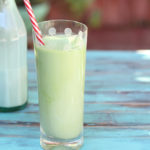 Gorilla Milk
---
Author:

Ester Perez

Total Time:

10 minutes

Yield:

24 ounces

1

x
Description
Gorilla Milk  made with dinosaur kale, celery, red leaf lettuce, parsley, and cilantro.  Last week I added arugula, swiss chard, cucumber and lettuce.
---
3

stalks of celery

4

large leaves of dinosaur kale

1/2

head of red leaf lettuce

1/2

bundle of cilantro

1/2

bundle of parsley
(optional-2 red apples)

2 cups

homemade almond milk
---
Instructions
Run celery, kale, lettuce, cilantro and parsley through a juicer. Add apple if you prefer your green juice slightly sweet.
Divide green juice among 2 tall glasses. Pour a cup of almond milk into each glass, stir and serve.

Latest posts by Ester Perez
(see all)